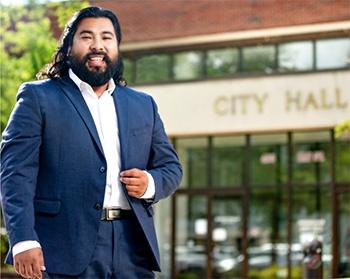 Challenger Mario Benavente edged incumbent Antonio Jones by six votes on Tuesday in the election to represent District 3 on the Fayetteville City Council, unofficial returns show.
Benavente received 1,012 votes to 1,006 for Jones, according to unofficial results from the N.C. State Board of Elections.
The count, which was reported about 9:15 p.m., showed that there were 10 write-in votes that could have changed the outcome.
Benavente said public safety and the search for a new police chief will be his priorities. He said his training as a lawyer and in law enforcement will guide him in helping find a new chief.
"I look forward to learning about not just their experience in years but something that they can point (to) in the last department they were in," he said Tuesday night. "Someone who is not just good on paper but on what they accomplished."
"I'm very proud of my team," said Benavente. "I was able to go out into the district and knock on doors and hear about constituents' concerns. I look forward to being a zealous advocate for them."
Jones has held the seat since December, when the City Council appointed him to fill out the term of Councilwoman Tisha Waddell, who resigned. Jones and Benavente were finalists for the appointment, and Jones won a second-round vote 6-3.
Benavente, 32, is a community organizer and legal professional. This would be his first elected office.
Jones, 48, is a broker and military relocation agent with the family-owned Jones Realty. He also is a pastor at Temple of Faith Church.
He could not be reached for comment Tuesday night.
District 3 includes parts of Fort Bragg and the neighborhoods of Cottonade, Country Club North, Hillendale, Hillendale West, Kornbow, North Hills, Tiffany Pines, University Estates, University Hills, and parts of Pondero