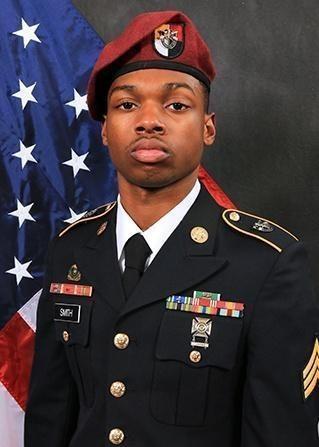 A 3rd Special Forces Group (Airborne) soldier was killed Jan. 18, in a shooting in Raeford, according to a media release from the U.S. Army Special Operations Command.
Staff Sgt. Jimmy Lee Smith III, 24, was pronounced deceased by emergency medical services upon their arrival at the scene.
Local law enforcement officials in Hoke County are investigating the case.
"Jimmy was a tremendous teammate and paratrooper," said Col. John D. Bishop, commander of 3rd Special Forces Group, 1st Special Forces Command (Airborne).
"He was an outstanding culinary specialist and an absolute asset to 3rd Group. More importantly, he was a great human being. Like all members of 3rd Group, Jimmy and his family will always be part of the 'The Tribe.' Our thoughts, prayers and condolences are with his loved ones, friends and teammates through this incredibly difficult time."
Smith's leadership and camaraderie left an impact on his team.
"Jimmy was more than just an NCO, he was a mentor, a shoulder to cry on, a comedian at times, but most of all a great friend," said Spc. Roenice Todd, a Group Support Battalion member. "It was truly an honor to be able to learn from him."
Staff Sgt. Michael Zapata, a friend, added, "Staff Sgt. Smith was a leader, a go-getter, and a great friend. He was the example of what a paratrooper should be and touched the lives of hundreds of other soldiers and paratroopers in the process. Paratroopers don't die, they simply slip away. See you at final manifest."
Smith joined the Army in 2016 and served in the 2nd Infantry Division at Camp Humphreys, South Korea, and in the 82nd Airborne Division at Fort Bragg, before arriving to 3rd Special Forces Group (Airborne) in March 2020.
Smith served with distinction as a culinary specialist in the Group's Support Battalion.
Smith deployed to Jordan in 2020 in support of Operation Inherent Resolve. His awards and decorations include the Army Commendation Medal (with four oak leaf clusters), Army Achievement Medal (with four oak leaf clusters), Army Good Conduct Medal (with one oak leaf cluster), National Defense Service Medal, Global War on Terrorism Service Medal, Global War on Terror Expeditionary Medal, Army Service Ribbon, Korea Defense Service Medal, the Non Commissioned Officer Professional Development Ribbon, Army Service Ribbon, Overseas Service Ribbon, and the Army Parachutist Badge.