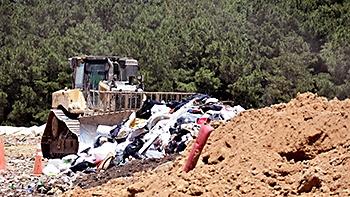 Cumberland County residents can view a virtual public meeting on the future of the Ann Street Landfill at www.cumberlandcountync.gov/annstreetplan.
The county is seeking feedback on the plan to extend the life of the landfill and asking residents to voice any concerns they have about it, according to a release from the county government.
The virtual meeting will be available until March 17.
Comments may be provided on the website, by emailing annstreetlandfill@cumberlandcountync.gov, by calling 910-505-9334, or through standard mail at 698 Ann St., according to the news release.
The Ann Street Landfill, which has operated at its current site since 1980, will reach capacity in just seven years, the release said. Before then, the county must plan for waste disposal beyond 2030.
County leaders have concluded that building a transfer station at the landfill is the most feasible short-term solution, the news release said.
The county is seeking feedback from neighboring residents and businesses and the greater Cumberland County community, the release said. The feedback will help identify strategies to reduce the impact on the neighborhood.
The project website also includes a Frequently Asked Questions section, Alternative Disposal Analysis Report, Environmental Justice Report, information on how a landfill operates and the County's ongoing efforts to Reimagine Ann Street Landfill and Solid Waste in Cumberland County.