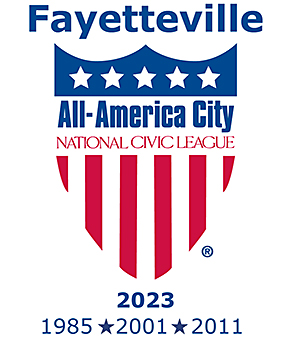 The City of Fayetteville was named a 2023 All-America City by the National Civic League at the All-America City Award Event in Denver on June 11. This marks the fourth time the City is an All-America City Award winner, earning the honor in 1985, 2001, 2011 in addition to 2023.
The AAC Award is a prestigious honor bestowed upon 10 communities around the United States annually. This year's award recognizes Fayetteville as a community working to improve the health and well-being of young people, particularly focusing on civic engagement.
"Being designated an All-America City is evidence Fayetteville continues to be a great collaborative, solution orientated and forward moving community," said Mayor Mitch Colvin. "We are being recognized as one of the premier local communities across the country who engage our youth as we continue to make Fayetteville a desirable place to live, work and recreate, not only today but well into the future."
Along with the AAC Award, Olive Cody won the John Par Youth Leadership Award. Cody impressed the award panel with her humility and passion after being nominated by a Fayetteville-Cumberland Youth Council colleague.
The John Par Youth Leadership Award is dedicated to a former NCL president, which recognizes extraordinary civic engagement and leadership on the part of a young person in their community.
Fayetteville was one of 19 finalists to compete for the award by presenting projects related to this year's theme, "Creating Thriving Community through Youth Engagement."
City staff and community members displayed the compelling story of recent work to improve civic education and participation to a jury of nationally recognized civic leaders, ultimately earning America's Can Do City the title of All-America City.
The city's application highlighted civic engagement and collaboration, a community-wide effort for inclusiveness and creative leveraging of resources to complete projects that have dramatic impact in the community.
Specifically highlighted during the presentation was the commitment to engaging youth through the Fayetteville-Cumberland Youth Council. The FCYC community outreach efforts in the presentation detailed the council's passion for and desire to serve their community in a meaningful way, which is a part of the council's mission.
The city continued to build on youth focused initiatives as key criteria for this year's award included building the civic capacity of young people, promoting youth participation in voting and policy making and providing leadership opportunities for youth through the efforts of the Fayetteville Next Commission. Additionally, the presentation included Market House Repurposing efforts and Education, Mentorship and Empowerment Programs.
Woven throughout the presentation was how invaluable collaboration is to city leadership and the community. One example is partnering with Cape Fear Regional Theatre to work on the script which incorporates Fort Liberty senior leaders and multiple city boards and commissions.
The cities also earning 2023 AAC Awards include two other North Carolina communities, Charlotte and Davie County, as well as Gonzales, California; Hampton, Virginia; Mesa, Arizona; Decatur, Georgia; Mount Plesant, South Carolina; and Dallas and San Antonio, Texas.
"We are happy to designate Fayetteville as an All-America City. Through their application and presentation, they showed that they are among the best in America at engaging youth and other residents to address important challenges," said Doug Linkhart, President, National Civic League.
For more information on the award, log onto http://www.allamericacityaward.com/.