Details

Wednesday, 04 May 2022
Written by Kathleen Ramsey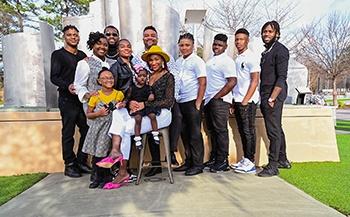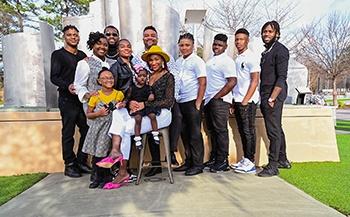 If there is one thing North Carolina's Mother of Year award winner, Demetria Davis, is, it's busy. Mama Dee, as those around her call her, finds the time to talk about herself late at night — after the dinner is made, kids are in bed and all the tasks that fall on a mother are done.
"Sometimes, you have to carve it out and make time," she said.
Davis grew up in Fayetteville and ran track at Terry Sanford. After high school, Davis continued to run track in college in South Carolina. She secured an endorsement from Nike and traveled the world running for the U.S. She ended up taking home a medal at the world championships in 2003. Suddenly, her days as a track star came to an end.
"I ended up getting injured. It went kind of downhill from there. I soon after met my husband. We got married, had kids. We started doing ministry together," Davis said.
Davis described this evolution as natural and spoke about it with a loving tone. In 2012, Davis and her husband moved back to Fayetteville and started their ministry in North Carolina. Being both a mom of five children and a minister kept her busy. Davis said she has many "kids" in the community. Everyone loves "Mama Dee," as one kid coined Davis many years ago.
She said she never intended to be nominated for Mother of the Year. An outing at a pageant led another attendee to nominate Davis for the Mother of the Year Award.
"She said just from spending time with me, she really loved my spirit. It was definitely different. I cried. There's so many wonderful mothers out there," Davis said.
For Davis, it is an honor to represent North Carolina and all the mothers in the state. But despite the title, Davis says she doesn't have all the answers as a mom. Mother of the Year does not equal perfection. Like most moms, she was afraid of making mistakes with her children.
"They see everything you do. One of the most challenging things is being who God wanted me to be for them. You learn every day how to be a mother. Sometimes you are walking your way blindly," she said.
Davis has found that mothering isn't limited to the kids she "birthed." Mothering, for her, extended to those kids in the community that look to her for advice and bonding. She became "attached" to many kids in the community. She's taken kids in and even had some stay with her during Christmas time.
"You end up being a mother to kids that don't have that at home. That was unexpected. It's amazing."
Her kids are also involved in sports and often bring friends home. It has become a hang-out of sorts for teenagers. Davis has two other boys right now that she says feel like her kids. She met both through her and her husband's ministry efforts. She says her love for God and her family is her biggest passion, and it becomes easy to serve people through it.
"We love serving people. I love my family. I love being able to make them happy."
For Mama Dee, serving her family and others includes great meals at home and catering on the weekends. Cooking is another passion for Davis. She believes that service to others can sometimes come from serving food and cooking.
"Whatever it is, I'm cooking, I am putting my all into it," she said.
Mama Dee recently became a grandmother. Her daughter had a baby last year. She gives the same advice to her daughter about being a mother. She tells her that she will make mistakes and not to get upset at herself.
For Davis, every day is a new opportunity to learn as parents. Davis does have some advice for other new moms as well.
"Be your authentic you. You are exactly who God created you to be. Sometimes we lose track of that, but once we get back on track and be who he wanted us to be, it's well worth it."