It is too bad that sports reporters and historians at Atlantic Coast Conference headquarters are not reading ACC Basketball. This UNC Press book by Sam Walker was published last year and chronicles the game during the conference's first 20 years. On the other hand, maybe it is a good thing for my old basketball coach, Lefty Driesell.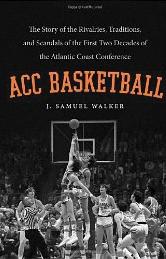 How do I know sports reporters and ACC staffers are not read-ing the new book? It came out in the controversy that developed about UNC Coach Roy Williams taking most of his players off the court 14 seconds before the game ended in Carolina's recent loss to Florida State. Williams thought the game was ending early. One story line in the following days was about other times that ACC basketball games ended early.
After checking with an ACC staffer, the Raleigh News & Observer reported, "As best as anyone can tell, UNC's loss at Florida State would have been just the second ACC game to end before time expired. The first time it happened — and apparently the only time — came in Maryland's 60-55 home victory against N.C. State on Jan. 7, 1967."
If the ACC and N&O had read ACC Basketball, they would have found, on page 2, Sam Walker's description of another early game ending when Maryland played South Carolina in Columbia. "On December 16, 1970, South Carolina was cruising to an easy victory when, with 4:52 remaining in the game, two players got into a shoving and elbow-throwing skirmish. Both benches rushed to the aid of their teammates, and a slugfest broke out. As Driesell tried to separate players and stop the melee, he was struck twice by South Carolina forward John Ribock. The fracas continued for about four min-utes before police managed to halt the fighting and the referees decided to end the game."
That story of another early ending is not the "good thing" for Coach Driesell.When I read and enjoyed ACC Basketball I asked UNC Press to send him a copy, thinking he would enjoy some of the stories about him.
I was wrong. Driesell called me the day after he got the book. "I'm going to sue them," he said. He pointed to a paragraph in the book about the recruitment of basketball star Charlie Scott in 1966. Scott was headed to Davidson, where Driesell was coaching, until Coach Dean Smith persuaded him to go to Carolina. It said that when Smith and Driesell met afterwards, "Smith offered his hand to Driesell and said something along the lines of 'no hard feelings.' A fuming Driesell indicated that there were indeed some hard feel-ings by spitting on Smith's outstretched palm."
Driesell was livid. "I would never spit on anybody's hand. That is terrible."
He was worried about his friends' reactions and especially about what "Dean's family would think."
Thanks to ECU athletic director, and Driesell's assistant coach at the time, Terry Holland, the book's version was corrected. Holland told Walker and UNC Press that "I was standing right beside Coach Driesell and can guarantee that there was no spit-ting involved."
As a result, the new printing of ACC Basketball revises its report to say simply, "Driesell looked down at Smith's hand and shook his head to indicate that he was not ready to concede defeat."
So the good thing for Driesell about reporters not reading ACC Basketball yet, is that when they do, he can hope they will read the revised version and not see a word about spitting.
"But what about people who read the earlier version?" Driesell asked me.
"All I can do," I told him, "is write a column that says you didn't spit in anybody's hand, and my readers will know the truth."
Photo: The good thing for Driesell about reporters not reading ACC Basketball yet, is that when they do, he can hope they will read the revised version and not see a word about spitting.