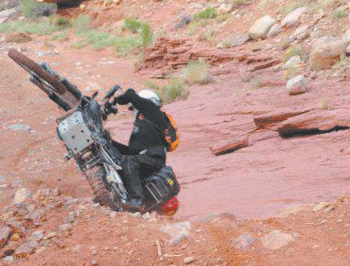 I just returned from a motorcycle adventure ride that was so challenging I actually feel shorter. While most motorcyclists were heading to Rolling Thunder, a few crazy guys were traveling across Virginia and West Virginia on what I was told would be "a pretty easy off-road ride with mostly graveled forest roads." I was thinking Jeep trails, which for the most part it was. It's the parts that are not Jeep trails that make "adventure riding" adventure riding. Little did I know I would be experiencing narrow trails almost like jungle canopy, red-clay slippery mud, 400-foot drop-offs and many water crossings.
At moments, I asked myself, "What am I doing this for? I'm tired; I hurt. Should I sell my dual-sport bike, get me a nice traveling bike and stick to the roads?" Getting stuck in what I will call mud quicksand took us two hours to get out of and required us to build a makeshift bridge in the middle of nowhere.
My wife watched my exploits on Facebook and said to me, "There is no way that looks fun at all." Every night, I agreed with her. Strangely, the day after I got back home, my body was in full-on travel mode. I wanted to get back on that bike and ride. Then I found myself wondering what my next trip would be. Crazy, right?
Most of my life has been in and around military, firemen and policemen. All of these jobs are high-risk jobs. Their friends and family worry every day if they will get back home. They, in turn, go to work every day and dream of some sane job doing something safe — but they choose to get back on it.
Thrill-seeking and risk-taking varies. For some, going to a scary movie is enough. For many, it is jumping on a motorcycle and going for a ride. For others, it is parachuting or tickling a bear's belly. So, where does this motivation come from?
The amygdala is the answer. It's a small, almond-shaped set of neurons in the brain's medial temporal lobe, which is kind of the center of the brain. Here, our mind processes a convergence of inputs of chemicals the body produces. These chemicals are generated based on what our senses tell our mind, and the body produces respondents. If danger is perceived — real or not — it triggers our instinct to respond to the situation. Part of our instinct is stimulated by our body's ability to produce adrenaline, endorphins, serotonin and dopamine. Together, they produce substances that stimulate positive and even euphoric feelings. Our body gets high from accomplishing or surviving something.
Adrenaline is the chemical that gets us ready for action when we perceive danger. It is that moment that often defines success or failure.
Endorphins keep up our endurance. It is the runner's drive and ultimate will to keep going when their body tells them to quit or walk.
Serotonin feeds brain cells related to mood, sexual desire and function, appetite, sleep, memory and learning, temperature regulation and some social behavior. Serotonin aids a wide variety of tasks in the body and is often called the "happy chemical" because it works for our wellbeing and happiness.
Dopamine comes up when we are attempting to accomplish a challenge. It's that decision-making process that says "Hey, let's go jump in the ocean, feed sharks and take pictures." Together, these chemicals are highly addictive and connive to drive us to seek out that thrill or scary challenge.
Thrill-seekers often operate in unpredictable situations. Thrill-seekers are usually not good with being deliberate, focused, concentrated or patient. They overcome these things by being prepared, training for situations, doing mental rehearsals or having an excellent medical plan.
To keep us in check, the brain's frontal lobe acts as an internal control panel that gives us cognitive skills like problem-solving, language, judgment, sexual behavior and emotional expressions. It gives us our personality and ability to communicate. It is also the part of the brain that tells us, "Danger. Stop. This is not safe."
I deduce that the most significant challenge for the thrill-seeker is between their amygdala and frontal lobe. They have to calculate the amount of risk, gain and loss they're willing to give for their next adventure.
If there is a topic you would like to discuss, email motorcycle4fun@aol.com. RIDE SAFE!