Best of Fayetteville: The Tradition
Continues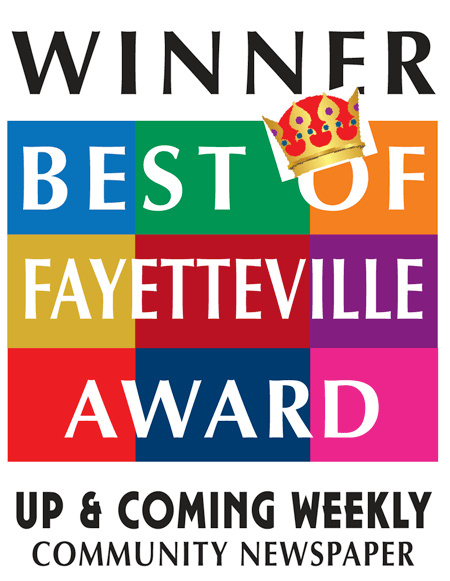 No doubt about it, starting today it's a yearlong celebration of Fayetteville's Best of the Best. Good things last and Up & Coming Weekly's Best of Fayetteville readership survey is a 17-year-old tradition recognizing and honoring the best people, businesses and organizations that have greatly contributed to defining the quality of life and personality of our community.
They are the ones who continue to impact our community by leaving a positive and indelible impression of pride and success on this and future generations of residents, visitors and guests. Yes, the Up & Coming Weekly Best of Fayetteville edition you are holding in your hands today will serve you well throughout the entire year as a valuable newcomers guide, service directory or cultural and event resource. Every page touting the best of the best of what the Fayetteville community has to offer.
And, why not?
The rules, format and guidelines of this sanctioned, time-tested survey have been designed, tested, monitored and audited to provide residents, local businesses and organizations the recognition and tribute they deserve for their pride, dedication and perseverance in their quest for excellence. Every category winner has achieved the highest level of excellence in what they do. For 17 years, we have successfully told their stories and revealed their secrets without a single regret.
No ballot stuffing here, no popularity contest or dubious chance to sway the end result.
Each winner is distinguished in its own way. There is no faking it when the community consensus selects you as the best in your field. This means that you are preforming at the highest level of excellence as recognized by your peers. This being the case, why not declare the business or organization the best? After all, in a competitive world and tight economy, only the best survive.
In building a better community, leaders know that success must be built on a sound foundation. In this case, that foundation is the community's best people, businesses and organizations all striving for extreme excellence.
So, please join me, the staff of Up & Coming Weekly and our Best of Fayetteville event sponsors and local leaders as we begin this year-long celebration. Pick up a copy of this special edition of Up & Coming Weekly at any one of our 500 countywide locations or stop by our corporate offices at 208 Rowan Street. For 24/7, 365 access to The Best of Fayetteville winners go to www.upandcomingweekly.com and click on the Best of Fayetteville. This is year round celebration!
Speaking of celebrations, Up & Coming Weekly celebrates its 20th anniversary next year. Wow! Now, that will really be a party! Stay tuned for the details. In the meantime, thank you for reading Up & Coming Weekly.