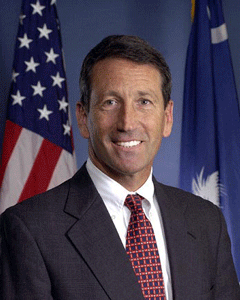 We North Carolinians have had our share of political bad boys.

Think former House Speaker Jim Black who went to federal prison for taking special interest campaign cash in a restaurant men's room. Think former state Representative Michael Decker who sold his vote for Speaker for $50,000. Think former Senator John Edwards whose notorious behavior will not be recounted on the pages of a family-friendly community newspaper. Think former state Agriculture Commissioner Meg Scott Phipps — OK, she is a girl but you see where this is heading — who took campaign cash from would-be State Fair concessioners. And, just last week disgraced former Charlotte Mayor Patrick Cannon, a convicted felon, voted in the General Election.

But our political bad boys pale in comparison to bad boys from other states whose behavior has dropped jaws across the country and beyond. Here are a few of the most recent bad boys seeking political redemption, most of whom actually got it.

Remember former South Carolina Congressman and Governor Mark Sanford? He is the fellow who told his wife and his staff that he was hiking the Appalachian Trail and would be out of touch for a few days. He then hopped aboard a commercial airliner with his American passport and jetted off to visit his Argentinian mistress. He clearly thought he was invisible despite having spent millions to make his name and face known to South Carolina's voters. And where is Sanford now? He was elected to his onetime Congressional seat in a special election last year and was re-elected last week, running unopposed.

CNN reported on two Congressional bad boys who also cruised to re-election despite widely publicized and unbelievable conduct. Tennessee Congressman Scott Desjarlais, a physician who is publicly pro-life, found himself in the embarrassing position of having a pregnant wife and a pregnant girlfriend at the same time. To make matters worse, the girlfriend was his patient, one of multiple patients with whom he has slept. Piling on his bad boy tendencies, pro-life Desjarlais demanded that both women terminate their pregnancies.

Stunningly, the doc was re-elected by nearly 60 percent of the voters.

Then there is New York Congressman Michael Grimm who could benefit from an anger management class. Grimm, a former Marine turned FBI agent, was overheard on a live microphone threatening to toss a reporter over a balcony in the rotunda of the United State Capitol. Said Grimm to the unfortunate journalist, "I will break you in half, like a boy." He is also facing a 20-count federal indictment on charges of tax fraud related to his management of a Manhattan health food restaurant.

Grimm was re-elected last week by more than 55 percent of his voters.

One notable exception to bad boy redemption is former Louisiana Congressman Vance McAllister who was caught on a security camera — how should I describe this? — "smooching" with his Congressional scheduler. Incredibly, his recent campaign featured a TV spot with his wife at his side, saying something about being blessed to have a husband to owns up to his mistakes. I wonder whether she has some new jewelry.
McAllister's constituents were not buying that one, however. He came in fourth in his race.

How do we explain the reality that despite behavior that is obviously disgusting and in some instances criminal, we continue to elect these bad boys?

Do we think these people are merely characters on a reality show instead of elected officials making decisions affecting all of us? Do we think they are good looking? Do we have thirty-second memories? Are we demented?

My take is that we have become so polarized by party in our nation that we will overlook even the most egregious behavior, character flaws, immorality and simple boorishness to vote for someone of our particular political persuasion. Television talking heads are using sports metaphors to describe this unfortunate phenomenon, saying we will vote for anyone who wears our uniform. And, this is not just a Congressional practice.
Cumberland County residents on both sides of the aisle are grumbling about this very thing in last week's local elections as well.
"Yellow dog Democrat" is a term dating from the 19th century referring to a person who would vote for a yellow dog before he voted for a Republican, but it seems a bit out of date today. Apparently we are now voting for red and blue dogs when what we really need are purple ones.

Such strident and rigid partisanship says a lot more about us voters than it does about bad boy candidates. It says something unflattering, damaging both to our elective process and to good government.