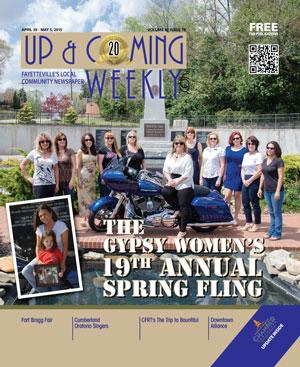 The Gypsy Women at Legends Pub are rowdy and fun loving. They are endearingly high-spirited and sassy, but that is not what people remember most about them. What sticks with people who know them is the Gypsy Women's generosity and the way they work like hell to take care of the people they love and support the causes they believe in — the way they dig in with both heels and do everything they can to make this community better — and how they and everyone around them has a blast in the process.
The much-anticipated 19th Annual Spring Fling is set for May 1-3 at Legend's Pub. The event raises funds for the Chambers for Hope and celebrates the installation of the Scott Sather Memorial at Freedom Memorial Park, an event almost 12 years in the making.
While the Spring Fling is the main fundraiser for the Gypsy Women, each year they organize several other poker runs and events to help different people and causes. Holly Whitley is the owner of Legends Pub and one of the founding Gypsy Women.
"I've never kept up with how much we raised over the years," said Whitley. "But I can tell you this — we have knocked it out of the ballpark for last couple of years."
The event has helped several local organizations over the years and the three days of memory making that it entails is something not to be missed. The fun starts on Friday night with a pre-party. Saturday kicks off with the Scott Sather Poker Run followed by plenty of food and entertainment, including an auction and several raffles after the ride. The bike show and rodeo conclude the Spring Fling on Sunday. The events on all three days are open to the public.
The many motorcycles parked outside Legend's on any given night might give pause to the wary but there are plenty who swear that walking into Legend's Pub is like coming home. Maybe it is the Thanksgiving, Christmas and other holiday dinners and celebrations that are shared here, maybe it is the camaraderie, maybe it is the way each and every person is welcomed when they come through the door, but there is magic here. No one is a stranger, not even on their first visit and lucky is the person who becomes part of the Legends family.
Scott Sather was part of that family.
"He was one of our dearest friends and a loyal customer," said Whitley. "Scott supported everything we did and was always there when we needed help with something. Losing him was a real blow for us. He touched so many lives."
Sather was killed in Iraq on April 8, 2003.
"He was the first airman killed in Iraq," Whitley added. "We marked 12 years since his passing on April 8. It took over 11 years to get his memorial into Freedom Memorial Park. The monument well describes who Scott was. We do a poker run in his memory every year."
Six-year-old Dana placed Sather's picture on the Hero Tree at her school. She's never met Sather, but he has touched her life because he was important to someone she loves.
"She explained how she was not old enough to ever know him, but he was her dad's best friend and that made him important to her, too," said Whitley.
Sather is one of many honored on the memory wall at the back of Legends Pub. The wall serves as a reminder of the rich friendships and colorful personalities that have touched the Legends Pub family. Some were killed in the line of duty. Others fell to illness or were claimed by fate in accidents. There is sadness in Whitley's voice when she talks about the loved ones on that wall, but the
While the memory wall serves to honor those who no longer walk among us, the festivities on this first weekend in May are about helping the living. The beneficiary of this year's Spring Fling is Chambers for Hope, which provides financial assistance to individuals who need hyberbaric oxygen therapy. The foundation was started after several Green Berets received hyperbaric oxygen therapy treatment that was funded by the Green Beret Foundation. memories are good and if you ask, she has tales of hijinx, loyalty and friendship about each and every person whose memory lives on in the pictures and mementos.
"Then we started meeting other vets who could benefit from the treatment but were not Green Berets. No one else was coming forward to fund their treatment," said Denise Mercado the president of Chambers for Hope. "Chambers for Hope is now a network. Our idea is to provide services people need where they live. If there is a safe hyperbaric oxygen therapy clinic where they live, why should people travel? We are identifying clinics and patients and doing events to get funding."
All of the funds raised at the Spring Fling will be used to fund hyperbaric treatment
for veterans.
"We have about six vets on the waiting list right now," said Mercado. "It is going to help vets and first responders. Chambers for Hope provides 100 percent funding to the military and first responders and 50 percent funding to children and other adults (who receive hyperbaric oxygen therapy,) but the Spring Fling is 100 percent for veterans."
Hyperbaric oxygen therapy involves breathing pure oxygen in a pressurized room or tube. The air pressure in the tube is up to three times higher than normal. This lets the body take in more oxygen, which means more oxygen gets to damaged tissues. This not only helps heal the body but also increases the speed of healing in some cases. The therapy is often used for anemia, severe brain abscess, burns, decompression sickness, carbon monoxide poisoning, crushing injury, deafness, gangrene, infection of skin or bone that causes tissue death, nonhealing wounds, such as a diabetic foot ulcer, radiation injury, skin graft or skin flap at risk of tissue death and sudden and painless vision loss.
James "Flea" Weatherly is a long-time patron of Legends Pub. He was seriously injured in a motorcycle accident in 2013 and is working hard to recover. His recovery process includes hyperbaric oxygen therapy at Fayetteville Hyperbarics. Weatherly has undergone 17 hyperbaric treatments and with great results.
"John (Denise's husband and hyberbaric technician) and Denise at Chambers for Hope are sharing so much with the community to help make people aware of what is available," said Whitley. "The treatment is making a difference. A statement made by John was 'I don't necessarily ask the patient as much as I do the spouses or friends,' and I can understand that, as my dear friend Flea is receiving it and benefiting from this treatment. The VA does not recognize this treatment. Meeting John and Denise and sharing their passion for the program is definitely inspiring to so many to join in and help."
Not much has changed from the '80s when Whitley's friend Jack jokingly called Whitley and her two friends Gypsy Women … mostly because they were always on the move. The group has seen friends come and go and often come back again. Whitley still loves to ride and she is always on the go. The Gypsy Women still stand in the gap and do what they can where they can to make the world a better place.
"The ladies of Legends are amazing," said Whitley. "As of now people from every walk of life have stepped up to the plate — ladies that ride and even those who don't. And I could never ask for kinder and more generous men in our surroundings as well."
Find out more about Chambers for Hope at chambersforhope.org. Find out more about the Spring Fling by calling 867-2364.