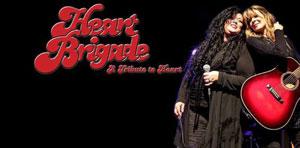 This month's Fayetteville After 5 concert is a trip back in time. Celebrate two of the '80s most popular bands while surrounded by the beauty of downtown's Festival Park.
Two classic bands are remembered and celebrated by artists who love them enough to dedicate their careers to keeping the decade of big hair and its signature sounds alive.
Heart Brigade, a tribute to Heart and Mostley Crue, a tribute to Motley Crue, perform on May 22. The one-of-a-kind electric experience of seeing these music masters in concert didn't die with the decade. Thanks to the dedication and passion of these musicians the audience can still have this experience. Whether a new fan or a fanatic from the beginning, this is a free concert you don't want to miss.
Heart Brigade is unique in its dedication. The band members don't just get up onstage and play popular Heart songs. They take it a step further. Each band member has spent years crafting their performing style and look to mimic the band they love so much. This is what separates them from other tribute bands. Everything from the sound to the outfits to the stage display is authentic. When they step out onstage and start to play it is like being transported to a Heart concert in 1980. Heart Brigade specializes in Heart songs, but they can also perform Led Zepplin with true late '70s flare. They are a based in Raleigh, but they tour all over
the nation. For more information on the band, visit www.heartbrigadeband.com.
Mostley Crue is also a North Carolina-based tribute band. More than just capturing the sound, the key to being an amazing Motley Crue tribute band lies in the performance. They have an insanely energetic, engaging and aggressive style of performance. It is electrifying. The members of Mostley Crue pride themselves on their ability to replicate this uniquely intense concert experience.
"We are firm believers in doing shows just like the bad boys of rock would do it. Balls to the wall and no holds barred. For an in-your-face rock and roll experience …" their website says. Just like the original held the '80s captive, Mostley Crue is sure to hold Festival Park transfixed with their powerful rock-and-roll performance. For more information, visit www.mostleycrue.com.
The season continues on June 26 with The Stranger, a tribute to Billy Joel and Dealing Stan, a tribute to Steely Dan. The July 24 concerts showcases Eagles tribute band On the Border and the country and classic rock of Brittany Marie. The final concert of the season is on Aug 28, and features Natural Wonder, a Stevie Wonder tribute band and Trial by Fire, a Journey cover band.
Fayetteville After 5 is a free concert series that is presented through a partnership between the Fayetteville Dogwood Festival and R.A. Jefferies, a local distributer of Budweiser products. Together these organizations provide the community with opportunities to enjoy incredible music in the great outdoors. Gates open at 5 p.m. and entertainment begins between 7 and 7:30 p.m. Concerts are expected to end between 10:30 and 11 p.m. No outside food or beverages are allowed in the park, but refreshments and food are available for purchase. Proceeds serve as a fundraiser for the Fayetteville Dogwood Festival.
Festival Park is located at 225 Ray Ave. Audience members are encouraged to bring lawn chairs or blankets to sit on during the concerts. For more information visit www.faydogwoodfestival.com/p/Events/211 or call 910-323-1934.