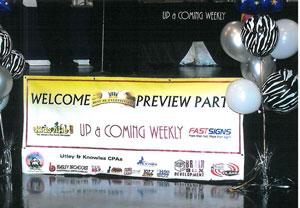 Good things last and Up & Coming Weekly's Best of Fayetteville readership survey is celebrating its 18th year paying tribute to Fayetteville's Best of the Best. It is a prestigious award bestowed once a year to the best people, businesses and organizations that have contributed overwhelmingly to defining excellence in service, workmanship and contributions to the quality of life of the Fayetteville and Cumberland County community. It's an honor that is marketed, advertised and promoted all
year long.
The September 16 Best of Fayetteville edition of Up & Coming Weekly will serve throughout the year as a priceless newcomer's guide, service directory and recreation and cultural event resource. Every page is touting with confidence the Best of the Best of what the Fayetteville community has to offer.
The rules, format and guidelines of this sanctioned, time-tested survey are stringent to secure and maintain the integrity of the program. These rules are time tested, monitored and audited to provide residents, local businesses and organizations
the recognition and tribute they deserve for
their dedication and perseverance in their quest
for excellence.
Every category winner has achieved the highest level of excellence in what they do; and for 18 years we have willingly told their stories, acknowledged their accomplishments and even revealed their secrets. All, without a single regret.
No ballot stuffing here, no popularity contest or dubious chances to sway the end result. Each winner is distinguished in its own unique way. There is no faking it when the community selects you as the Best of the Best. This means that you are preforming at the highest level of excellence as recognized by your peers. After all, in a competitive world and tight economy, only the best survive and they deserve your business.
In building a better community, leaders know that success must be built on a sound foundation. In this case, the foundation is the community's best people, businesses and organizations, all striving for extreme excellence. So, this being the case, mark up a ballot today and send it in or go online to www.upandcomingweekly.com and vote. Invite your friends to vote. Remember, the Best of Fayetteville is a year-round celebration!
Speaking of celebrations, Up & Coming Weekly is also celebrating our 20th anniversary. Can you imagine the award party we will have this year? Stay tuned for the details. In the meantime, thank you for reading Up & Coming Weekly. We love you all!
Vote. Vote. Vote.