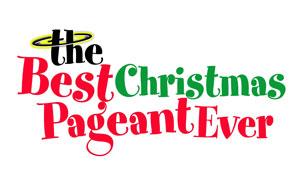 While most people look forward to the annual Christmas pageant at their local church, Cumberland County residents look forward to the worst Christmas pageant, which in reality is really The Best Christmas Pageant Ever.
Celebrating its 25th anniversary, the Cape Fear Regional Theatre proudly brought the BCPE to its stage again this year, but, they have added a little twist.
On Monday, Dec. 21, a special performance of the show will take folks back 25 years to the very first BCPE, as an alumni cast performs in the anniversary show.
This bit of fun and mischief is taking place under the direction of Bo Thorp and many of the actors who have made the play — and the theatre — such a success over the past 25 years. The cast is full of the Christmas spirit and ready to put on a great show, all to benefit the children's programs at the theatre.
One Fayetteville family that will have a big impact on the show is the Beaver family. Twenty-five years ago, Laura Beaver and Jenny Beaver deViere made their stage debuts in the BCPE. Laura was the first Fayetteville resident to bring to life the mischevous, yet loveable, Gladys, while Jenny was the sweet Beth, who was one of the first to understand that the rowdy Herdmans were not ruining the show, but rather making it better. In the alumni play, their dad, Jerry Beaver, will play the role of Rev. Hopkins. It truly is a family affair.
Several other family pairings are also on tap. KenGriggs and his daughter, Laura, are also jumping into the fun. Laura will play the goody two shoes, Alice, while Ken will be the oldest Herdman Ralph.
Nicki Hart, a long-time CFRT performer, will reprise her role as Mrs. Slocum, while her daughter, Ava, will play Naomi. Hart's son javin will play a shepherd.
The mother/son duo of Nannette and Tommy Walsh will also join the cast. Nannette will play Mrs. Clark and Tommy will play LeRoy Herdman.
Up & Coming Weekly's Bill Bowman is also getting into the act, as he plays the role of Ollie Herdman.
Many other CFRT and BCPE alum are also performing, which will leave the audience in stitches, but also in awe of the talented performers who have called the CFRT home.
Tickets for the event are $5; you must make reserversations. Plan on making them early, because this show is sure to be a hot commodity. At the show, donations will be taken to benefit the theatre's children's programs.
The curtain rises at 7 p.m. This is one show you won't want to miss! For more information, visit the website at www.cfrt.org.