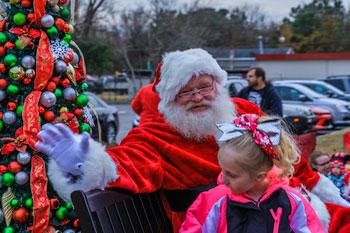 Well, now that Thanksgiving is over, we can relax and enjoy Christmas. It's the most wonderful time of the year!
How do you celebrate Christmas? Do you travel? Is your home the gathering place for friends and family? Do you do like I do and bake to your heart's content? Do you put up the tree and decorate on Thanksgiving? There are many ways to celebrate and enjoy our savior's birth. Everyone has their own traditions. Some make homemade presents. Some ride around and listen to Christmas music while looking at the different decorations and lights. Some volunteer to help feed the less fortunate. Some donate clothes and/or money. Some eat … and eat and eat. (You can't blame them – the food is just too good!)
The Town of Hope Mills has traditions as well. Santa will be making a special stop to our humble town to kick off the holiday a bit early. Beginning Dec. 1, the town will begin celebrating with Christmas on Trade Street from 6-9 p.m. The celebration continues with Christmas in the Village and the Hope Mills Christmas Parade Saturday, Dec. 2, at 3 p.m. Right after the parade, there will be a Christmas movie to enjoy along with free hot chocolate and cookies. You also can ride the train.
On Friday, Dec. 8, Seniors (55+) can enjoy a Christmas banquet at the Hope Mills Parks and Recreation Center from 10:30 a.m.-1 p.m. Who doesn't want to enjoy a tasty breakfast with Santa? Saturday, Dec. 9, from 8:30-11 a.m., join Santa for breakfast at the Hope Mills Parks and Recreation Center. If you can't make it, no worries. Santa won't be heading back to the North Pole until after he eats dinner and dances with us all Saturday, Dec. 16, from 5:30-8:30 p.m.
This is the first of my wishing you a Merry Christmas! Enjoy the parties, the food, the decorations and most of all, the fellowship with family and friends.
For more information on the events, call the Hope Mills Parks and Recreation Center at (910) 426-4109 or visit their Facebook page.