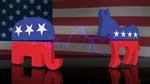 Filing for elective office in North Carolina began last week with the stakes for those of us who live here higher than ever. Candidates for offices from U.S. House of Representatives to local soil-andwater commissions are putting their money down, signing on the dotted line and officially tossing their hats into the 2018 rough and tumble campaign ring.
The good news is that voter interest is high, at least for now, which indicates spirited contests. The bad news is that 2018 is a "blue moon" election year, with the highest offices on the ballot being Congress and the North Carolina General Assembly, contests that do not bring out voters the way presidential and gubernatorial races do.
Make no mistake, though. Congressional contests matter, but because of ongoing and deeply rooted partisan gridlock in Washington, who is elected to the General Assembly matters more. Below are several issues to post on your fridge to evaluate candidates for the state Senate and House between now and the November election.
If you have reached your outer limit – as I have – on gerrymandering, look for legislative candidates who support a bipartisan redistricting system. North Carolina, like most states, tasks the General Assembly with this responsibility, which means the people who stand to benefit are drawing their own districts and choosing their own voters. No other developed nation allows foxes to guard the hen house, and other states are moving away from this model. North Carolina should adopt a bipartisan system as well.
If you would like to know what your elected legislators are up to, support candidates who favor transparency in government. Right now, it is anyone's guess what issues the General Assembly might address or when they might do so. Legislative calendars are not always available to the public, sometimes not even to members themselves. How are North Carolinians to know what is happening until after the fact when it is too late to voice one's opinion on issues that impact all of us?
If you believe in public education and think it has shaped North Carolina for the better, support candidates who agree with you. Ask them if they favor funneling our tax dollars to private/religious schools through vouchers. Ask them why our teachers, whom legislators love to call "professionals," are paid less than in other states. Ask them whether they will continue the practice of shifting the financial burden of public education to local governments, meaning that students in wealthy counties like Wake are more likely to get a better education than students in lower wealth counties like Cumberland.
If you believe North Carolina tax dollars should be spent in North Carolina, ask General Assembly candidates if they would vote for our dollars to flow to expanded Medicaid coverage in other states but not here.
Perhaps most pressing for Cumberland County residents and voters downstream, ask General Assembly candidates whether they will tolerate chemical pollution of the Cape Fear River and North Carolina air. The General Assembly beat a hasty retreat from Raleigh last week without addressing Chemours GenX water contamination at all. Legislators are not scheduled to return until May, and a lot of water from the Cape Fear and from private wells is going to be drunk from Fayetteville to Wilmington between now and then.
Meanwhile, the underfunded state Division of Water Quality continues to cite Chemours for GenX contamination but lacks teeth to back up their actions. How on Earth is it responsible behavior by our elected officials not to fund efforts to address water contamination and its effects on the people they are supposed to represent?
Candidates of all political stripes always say, "This election is the most important one of our lifetime." Maybe so, and maybe not, but no one can argue that 2018 will be a watershed for our state. Do we want more of the same gerrymandering, lack of transparency, underfunding of public education and health care and an ongoing disregard for our environment? Or, do we want sunlight and a fresh breeze to blow through Congress and the General Assembly?
For the life of me, I cannot imagine why any voter would favor the former, and it is our responsibility to find out where candidates stand on these issues. We must not let them bamboozle us or slither away without answering our questions directly.
We have until Nov. 6 to pin them down.