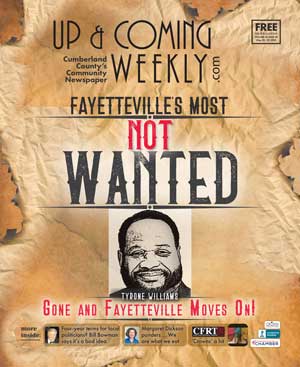 Last week's edition of Up & Coming Weekly featured former city councilman Tyrone Williams. Some of our readers responded passionately to our position – especially on social media. We are publishing some of their comments, with their permission. Many of the comments related to this issue have not been published because the writer either refused to give us permission or did not respond to our request to publish their comments. If we missed you or if you want your voice to be heard, email editor@upandcomingweekly.com.
Via email
Hi, I just want to say that your magazine cover with Tyrone Williams is of bad taste. He may have done wrong, but what's the point of kicking a man when he's already down??? Let he w/o son cast the 1st stone!
– Marie Thomas
Via Up & Coming Weekly's Facebook page
So much positive stuff going on in town and yallchose this as the cover? smh
– David P Wedlock Jr.
When you are caught on tape soliciting a bribe it is hard to go quietly into the night. Ask any mobster caught on tape in a RICO case. Mr. Lallier's alleged actions (despecable as they may be) have yet to be litigated and he is not an elected public figure. Mr. Williams got busted. Straight up. 40 years ago I would have jumped to defend Mr. Williams based on our shared race. No more. I am long past defending the bad behavior of people based on their race. With elected public office comes public scrunity, good and bad. This is an example of something that he did being held up for inspection. Remember, the FBI does not just wake up and decide to tape someone. That permission comes from a U.S. District Attorney. We, the public must be able to look into the actions of our elected officials, no matter what color they are. Even if disclosing those actions is painful (and believe me as a Black southerner this is painful to me). I think Mr. Williams knew exactly what he was doing when he walked into that office shortly after being elected. He just got busted.
Long ago, before many of my adversaries were a stain on a mattress someone said you should be judged by the content of your character not the color of your skin. The guy has been judged by his character ... he has been proved to be lacking.
The cover is on the money.
– Tony Long
This cover is an epic fail, Bill Bowman!
– Teri Gibson Schultz
Awful. No justification for this kind of behavior from a local media company. I've been watching how the Mike Lallier case has received next "to barely there coverage," or the level of sacrifice "outrage" similar to this case. The behavior by both men are wrong. Up and Coming - the cover stinks of racism.
– Carroll Arnold