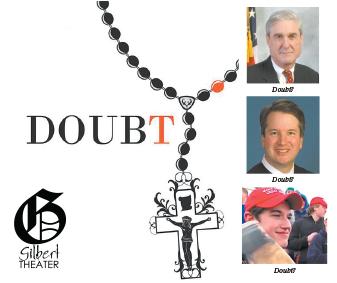 Gilbert Theater's newest production, "Doubt," opened this past weekend to a small audience who undoubtedly enjoyed a huge show. Directed by Matthew Overturf, this thoughtprovoking drama written by John Patrick Shanley could be the Gilbert's best show of this season.
Even though the play was written in the 1960s, it is relevant to the crazy realities we face today. Shanley's piece centers around Sister Aloysius, a tenacious nun who is the principal of a Catholic school in the Bronx in New York. She is convinced the parish priest, Father Flynn, is having an inappropriate relationship with a young male student.
Was he? Wasn't he? That is where this drama draws an eerie correlation to what we are experiencing in this politically charged 21st century. The shameful acts and subsequent cover-up of bad behavior by Catholic priests is not new news. However, viewing the show in relationship to what we are experiencing as a nation gives this play its gut-wrenching impact. Even back in the '60s, there was a hint of a lack of presumption of innocence.
Now, with the prominence of the internet and social media — and a political climate that has adopted a slanderous, no holds barred, anything goes, search-and-destroy campaign strategy — this play parallels our country's deteriorating respect for humanity.
If you are a well-informed American of any race, religion or political affiliation, you will recognize the parallels in this story to Robert Mueller's Russian investigation; the confirmation fiasco of Associate Justice Brett Kavanaugh; the accusations lodged against two Covington, Kentucky, students accused of disrespecting Native Americans; the politically charged border security issues, which result in the deplorable treatment and exploitation of humanity; and more recently, the explosive issue of legalizing full-term abortions.
All of these present-day issues fill plenty of us with plenty of doubt. Go and see the play and ponder on the similarities for yourself. You will not be disappointed. The show runs through Feb. 17.
I would be remiss to not mention the talented cast of "Doubt," who gave stellar performances. Kay Cole plays Sister Aloysius. Evie King is Sister James. Deannah Robinson plays Mrs. Muller, and Cole Vecchio is Father Flynn. All four of these actors performed flawlessly to create a tour-deforce theater production.
Fayetteville is certainly the theatrical mecca of North Carolina. No doubt you will be impressed.
Thank you for reading Up & Coming Weekly.
Photo: Robert Mueller (top right), Brett Kavanaugh (center right) and Nick Sandmann (bottom right).