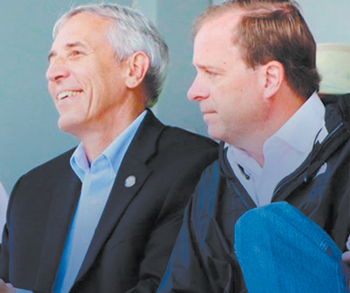 One look at the cover of this publication and you know which side of this issue we fall on. It's been a busy Fourth of July week here in Fayetteville and Cumberland County, with the holiday fireworks surrounding the negative effects Gov. Roy Cooper's, D-N.C., veto of the 2020–22 budget will have on the residents of Cumberland County and the state. My view is that partisan political agendas and the lack of credible communication skills have the governor and his lemmings putting self-serving politics before the people.
Granted, the budget is not perfect, and there is plenty of room for improvement. However, when listening to the arguments of those who support the governor's veto, like Democrat Sen. Kirk deViere, you would think their goal was to establish themselves as modern-day Robin Hoods.
To hear them tell it, Democrats are the only ones who care about jobs, education, infrastructure, teachers, child welfare, veterans and health care. Listen to their arguments and eventually, the true meaning of their words reveals a political agenda. It's a biased agenda that varies from county to county, depending on individual political aspirations. Sen. deViere is constantly referring to "his" constituents. Well, we are all his constituents, and many people feel our elected delegation should look to the future of Cumberland County and pursue what is good and beneficial to our community — not short-term fixes that are politically gratifying. The major pushback is coming from the fact it does not include the governor's pet project, Medicaid expansion.
District 45 Republican John Szoka heads our Cumberland County delegation. Szoka has gained the respect and admiration of local constituents and colleagues across the state. His effectiveness, achievements and overall statesmanship as a legislative delegate is a matter of record in Raleigh. Szoka is known for his relentless work ethic, honesty and integrity — but mostly for his obsession with pragmatic thoroughness when it comes to investigating and researching bills, policies and the needs affecting residents of Cumberland County and our state.
Szoka has rightfully earned that reputation, and it is the reason for his firm stance opposing Medicaid expansion. No one is more informed in understanding the effects of this budget on North Carolina. He was appointed by House Speaker Tim Moore, R-District 111, as a conferee to work out the differences between the House and Senate versions of the budget. During this time, he was a strong advocate for his district and Cumberland County. During this process, the county received the budget considerations that Szoka included in the House version of the budget. Through his persistence working on HB966, $132 million was appropriated to Cumberland County. HB 966, according to Szoka's recent newsletter, included:
• $900,000 NC Military Business Center Fund: Provides additional funds for the North Carolina Military Business Center at Fayetteville Technical Community College. The revised net appropriation for the Center is $2.1 million.
• $100,000 Cape Fear Botanical Garden: Provides a directed grant to FTCC to support the Cape Fear Botanical Gardens.
• $4 million Cape Fear Residency Program: Southern Regional Area Health Education Center Provides funds to the SRA Health Education Center for surgery and family residencies in the SRAHEC services area and facility and structural improvements associated with current residency programs. The net appropriation for this purpose is $4 million in each year of the biennium.
• $40,000 Town of Falcon Fund: Provides a directed grant to the town of Falcon for town hall projects.
• $420,000 Texfi Site Cleanup Fund: Provides funds for a directed grant to the Fayetteville Public Works Commission to address contamination at the Texfi Industries site.
• $600,665 Emerging Compounds: Provides additional funding for activities related to emerging compounds. Funds are provided to create five positions for surface and groundwater monitoring and sampling. In addition, nonrecurring funds are provided for scientific equipment and supplies.
• $750,000 Airborne & Special Operations Museum Fund: Provides a directed grant to the ASOM Foundation.
• $750,000 Veteran's Health Care Pilot Program: Provides funds to develop and implement a two-year pilot program in Cumberland County to provide health care and job training services to veterans.
• $2 million Military Presence Stabilization Fund: Provides funding to sustain and maintain the state's military programs and activities by providing grants for local communities or military installations, updates to strategic planning, federal advocacy and identification of measures to increase the military value of installations.
• $15 million Civil War History Center Fund: Provides a directed grant to the NC Civil War History Center Foundation for the construction of the North Carolina Civil War & Reconstruction History Center. The total amount authorized for the project is $46 million.
• $2.5 million University of North Carolina- Fayetteville State University Dormitory Demolition and Removal Fund: Provides funding for the demolition and removal of a dormitory.
• $13.7 million University of North Carolina- Fayetteville State University Rosenthal and Chick Buildings Renovations and Additions Fund: Provides funding to renovate the Rosenthal and Chick buildings.
• $1.5 million Martin Luther King, Jr. Park Fund: Provides a directed grant to the Fayetteville/Cumberland County Dr. Martin Luther King Jr. Committee, a nonprofit organization, to complete the development of the Martin Luther King, Jr. Park.
• Cumberland County $28,886,745: The General Assembly intends to appropriate at least $500 million. Funds allocated shall be used to issue allotted proceeds to local school administrative units for new construction or rehabilitation of existing facilities and repairs and renovations.
• FTCC $20 million: The State Capital and Infrastructure Fund allocated for capital improvement projects at community colleges in this state in the aggregate amount of $400 million. Funds allocated shall be used to issue allotted proceeds to community colleges for new construction or rehabilitation of existing facilities and repairs and renovations.
Below is an excerpt from Szoka's recent newsletter explaining the actions, inactions and political antics taking place in Raleigh.
It is NOT About Medicaid Expansion: It is about Politics.
In good faith, House and Senate leadership met with the governor and brought a list of negotiating positions on top-line budget targets, capital spending, taxes, teacher and state employee salaries, public education and the rainy-day fund. Despite repeated requests, the governor did not come to the meeting with any specific positions on anything other than Medicaid expansion.
Rep. John Szoka: "Medicaid is a separate issue that is very complex and, in all honesty, has been a mess from the beginning. To put money into an already inefficient and broken program would be irresponsible, in the least, and an absolute travesty to the taxpayers of N.C., at its worst."
Speaker Tim Moore: "Regarding that issue, we offered to include in the budget a provision to convene a special session to address health access issues, including Medicaid expansion. The governor previously proposed a 'two-track' solution and wants Medicaid to be 'part of the conversation.' This meets both of those requests. The Governor rejected the proposal."
Rep. John Szoka: "This is not how to govern. In good faith, the 'vetoed' budget does include a provision to convene a special session (at the order of the governor) to address health access issues, which include Medicaid expansion."
At the extra session on access to health care section 5.12: "The General Assembly encourages the governor to convene an extra session pursuant to Section 5(7) of Article III of the North Carolina Constitution. The purpose of the extra session would be to consider access to health care across North Carolina, including issues pertaining to health insurance, association health plans, Medicaid, and Medicaid expansion."
The entire document can be viewed by clicking the link on Up & Coming Weekly's Facebook page. You be the judge. Who is being honest? Who is trying to communicate? Who is trying to negotiate? Who is looking out for the residents of Fayetteville and Cumberland County and the citizens of North Carolina? Szoka carries the type of vision and responsible leadership that will grow our community and state while assuring a bright and prosperous future for generations to come.
If you agree, contact your state senator and state representative and ask them to vote for vision, honesty and integrity in North Carolina government. They will know what to do, and ultimately, so will you.
Thank you for reading Up & Coming Weekly.
Photo: Rep. John Szoka with former Fayetteville mayor Nat Robertson