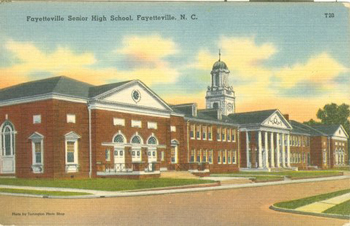 When I was a student at Fayetteville High School, it was on Robeson Street in downtown Fayetteville where the Highsmith-Rainey Specialty Hospital now stands. I fondly remember being a member of the FHS band that was directed by George Tracey and later by Harvey Bosell.

When I was in the ninth and 10th grades, the band members wore blue and white uniforms because those were the school colors. Our second band director, Harvey Bosell, composed a marvelous march entitled "The Blue and White Blues." This song became so popular that we played it at every football game that was held in the large stadium directly behind our spacious school building that occupied an entire city block.
When I was in the 11th and 12th grades, the band changed from conventional band uniforms to Scottish kilts. Some of the male students did not like the new uniforms because a few of the girls seemed to greatly enjoy pulling the boys' skirts up to see what they were wearing under them. The FHS band was so large that we had to charter two busses when we played for out-of-town football games and other events. We also rode on a chartered train when we played for games in Wilmington. Some of us liked to play popular music as we traveled by rail to other cities, but our band director usually stopped us before we had time to finish playing our music.

When I was in the ninthth through the 12th grades, I formed and directed the school orchestra. We played for school dances and also at Fort Bragg services clubs and for many other events. We had the honor of playing at the Main Post Officers Club which, at that time, was managed by Leroy Anderson. He was a world-famous composer of many wonderful songs, to include "Sleigh Ride" — a song that is still very popular during the Christmas season.

Movie about Fayetteville
While I was a student at Fayetteville High School, one morning, an announcement was made over the school's public address system that a Hollywood movie crew was coming to town to make a movie about Fayetteville. We were told that, at a certain time that afternoon, they would be filming some of the movie at The Carolina Soda Shop next door to the Carolina Theatre on Hay Street. The soda shop was owned and operated by the late Bill Crawley, who made some of the most delicious hot dogs in town. Students from Fayetteville High School loved to visit The Carolina Soda Shop every day after school. Many of us were featured in that historical movie as we sat at the counter eating hot dogs and drinking Cokes or milkshakes. When many of my friends saw me the following day, they commented about seeing me sitting at the bar enjoying a milk shake from The Carolina Soda Shop. If you happen to know who has a copy of that movie, please email me at weekspjr@infionline.net.
The FHS Radio Club
In the center of our school building, there was a lovely coupler where the radio club, of which I was president for three years, had an amateur radio station whose call letters were W4MQW. Our radio club was sponsored by V. R. White, principal of the school. Mr. White often invited club members to visit him in his home at 1414 Old Fort Bragg Road, where he had his own amateur radio station. His call-letters were W4BPQ, and we were thrilled when he allowed us to talk to other stations a far away as Australia through his short-wave radio.

Name change
Several years after I graduated from Fayetteville High School, the name was changed to Terry Sanford High School in honor of Terry Sanford, who was the 65th governor of the state of North Carolina. If you have ever been a student at either Fayetteville High School, or at Terry Sanford High School, I am sure you are proud to have been a member of one of the finest schools in the state.

Fayetteville High School on Robeson Street
This postcard picture of Fayetteville Senior High School was made when it was located on Robeson Street on the present site of the Highsmith-Rainey Memorial Hospital. The high school building was constructed in 1940 and was used as the senior high school until 1954, when a new building was constructed on Fort Bragg Road. In the fall of 1969, Fayetteville Senior High School became known as Terry Sanford
High School.