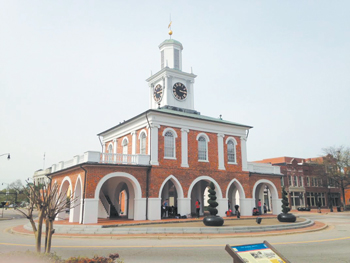 We Americans continue to find ourselves in all sorts of distress, some of it acute and some of it as President Jimmy Carter famously said, a "malaise." The pandemic has upended life as we knew it for millions of all ages, and the sadness, fury and national reckoning following George Floyd's murder in Minneapolis, Minnesota, sparks ongoing peaceful protests across the country and, in some instances, unlawful violence and destruction. In short, many of us feel unmoored and on edge politically and culturally. For many, no safe harbor appears on the horizon.

Which brings us to the Market House in downtown Fayetteville.

As a Fayetteville native, the Market House has been part of the landscape all my life. For people who come to our community later in their lives, it must be a curiosity, a relic modeled on the traditional English town hall. History records that the Market House was used primarily by local and area vendors to sell farm produce, meats and other goods in the open arcaded area. Enclosed meeting space above provided a gathering space. Although several Southern port cities such as Savannah, Georgia, and Charleston, South Carolina, created designated slave markets, that was not the purpose of the Fayetteville Market House.

That said, human beings whose ancestors were captured in Africa and brought to this country against their will were indeed sold on the site of Fayetteville's Market House. It did not happen every day, but it did happen. A 1989 plaque approved by Fayetteville City Council members and erected in the building's arcade memorializes the human beings who were sold there. The cold hard fact of those sales is what brought out protestors in recent weeks and precipitated vandalism at the site.

So, what now?

Some have called for razing the building, the only local structure designated a National Landmark, and others call for finding a commemorative purpose for it. Razing makes no sense to me. Doing so would not take away the stain that resides there, any more than razing Nazi concentration camps in Europe would make the Holocaust not real. I fall into the repurposing camp. In my own memory, the Market House has been open to vehicular traffic, has housed a public library, art museum and several offices and hosted musical concerts and parades and various other activities.

The first and primary challenge of any repurposing is to expand the memorial to those who were sold there with names and dates as far as are known. This memorial would become the focus of repurposing, central to whatever occurs at the Market House. Various ideas have been floated— a museum dedicated to local African American culture among them, and all proposals should be explored.

The guiding principle as our community undergoes this process should be to memorialize the people who were subjected to Fayetteville's role in our nation's original sin.