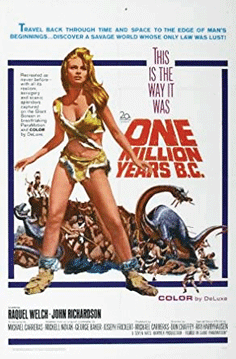 Today we are going to visit the wonderful world of Tyrannosaurs courtesy of Mr. Peabody's Way Back Machine and Mr. Science. Let us begin with a song: "Pack up all your cares and woe/ Here you go/ Singing low/ Bye-bye Tyrannosaurs."
Sometimes life is stressful. Sometimes life is disappointing. Sometimes life is dangerous. Today's lesson is intended to lift both of my readers from their Slough of Despond into a happier place. A place without a pack of hungry Tyrannosaurs on the look-out for human sushi. That's right boys and girls, things could be worse. Right now you are probably asking yourself: "Self, how could things possibly be worse?" Well, they could.
Suppose you had been born in the late Cretaceous period, which was 95 million to 75 million years ago? The Grim Reaper says you would be dead by now. Mr. Science says you might have achieved your demise by being eaten by a pack of Tyrannosaurs.
Some may say, "Wait a minute. People weren't around in the Cretaceous period, so dinosaurs could not have eaten them." Au contraire, as the French say. No less an authority on ancient times that the enormously talented Raquel Welch proved people and dinosaurs occupied the same time zone. In her excellent documentary "One Million Years B.C.," Ms. Welch played Loana the Fair One while co-starring with multiple
dinosaurs.
The film opened with "This is a story of long, long ago, when the world was just beginning. A young world, a world early in the morning of time. A hard unfriendly world. Creatures who sit and wait. Creatures who must kill to live. And man, superior to the creatures only in his cunning." Raquel existed due to her beauty as well as her cunning.
A recent article in The Washington Post by Juliet Elpirin blew the lid off the long-held rumor that Tyrannosaurs not only bowled alone but also hunted alone. Paleontologists had believed that T-Rex was so cranky he wouldn't associate with other T-Rexes except during the Cretaceous form of the Dating Game. While one T-Rex could ruin your day, imagine what a pack of Tyrannosaurs hunting together would do to your usual sunny disposition not to mention your bone structure.
Paleontologists are never happier than when they are digging in rocks or dirt. It's a paleontologist thing that mere mortals can never understand. Just accept that premise. Super star paleontologist Alan Titus and his buddies were out digging in the "Rainbows and Unicorns Quarry" in the Utah desert when they discovered the Tyrannosaurs equivalent of the Brady Bunch dinosaur burial grounds. The Quarry got its name because lots of groovy dinosaur bones discovered there. It doesn't take much to excite a paleontologist. The recent Quarry find got a whole lot of shaking going on among dinosaur diggers.
They found the bones of four or five T-Rexes who had been caught in a flood. Their bones ended up in a lake where Alan found them millions of years later. Using Mr. Science's tool, they determined that the pack of T-Rexes ranged in age from 4 to 22 years old at their demise. Just like the Brady Bunch, these T-Rexes were all in the same place at exactly the wrong time. It is unclear which T-Rex was Marcia Brady but the implications were clear to Alan. They had all been out hunting together in a pack.
Alan said: "A lot of researchers feel like these animals simply didn't have the brain power to engage in such complex behavior." To quote Al: "There it is, a very sad day in Southern Utah 76.4 million years ago." A paleontologist with the soul of a poet, reflecting on the unhappy ending of a pack of dinosaurs millions of years ago. After 76.4 million years, it may still be too soon to make jokes about the death of these particular dinosaurs. So, I won't.
On top of the unnerving knowledge that T-Rex hunted in packs, Science magazine just reported that North America was the happy hunting ground for many T-Rex families. The report estimated that "20,000 T-Rex lived at any one time and about 127,000 generations of T-Rex lived and died. Those averages imply that a total of 2.5 billion T-Rex lived in North America."
That is a lot of Tyrannosaurus whoopee making. Any way you look at it, 2.5 billion T-Rex are a major passel of hungry meat eaters. The T-Rexes didn't have Uber Eats. They hunted other dinosaurs and cave men just like in Raquel's movie.
So why should any of this paleontology lore make you feel any better about your life in these times of The Rona? Allow me to retort. Cheer up, Binky. Look on the sunny side of dead T-Rexes. When you leave your house are you going to face up to 2.5 billion T-Rex? Not very likely. Or even if you only had to face 20,000 T-Rex on your way to work, would you like those odds?
All you have to deal with is the traffic on Ramsey Street or Raeford Road. As bad as the traffic is, it cannot compare with a pack of five hungry Tyrannosaurs deciding you looked like lunch. That alone is something in which to take heart. You are not going to be eaten by a dinosaur today no matter how bad things may be going.
Put on a happy face. Let a dead T-Rex be your umbrella.