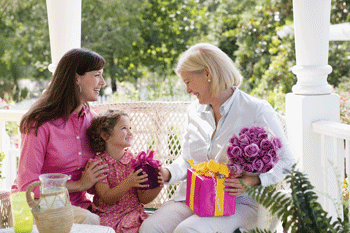 In 1914, U.S. President Woodrow Wilson officially recognized Mother's Day as a national holiday. More than a hundred years later, the holiday has become a global celebration to honor the mothers who made sacrifices to raise generations of children and support them through adulthood.
While flowers or chocolates are a perfectly suitable way to say thanks, it's the way you live your life, the special words you say to her, or even those you write in a card that mean the most.
Before I even turned 18, I left home to join the Army, and never returned except to visit. And while I can still hope that my life in some way is a tribute to the mother who raised and launched me into the world, so much of what I know about mothers and their adult children I've learned from a front row seat to an amazing mother and grandmother — my wife.
On a recent Saturday, she made plans for as many as wanted to join us to gather their Nerf® guns and follow us, or to see how many we could fit inside each vehicle for a drive-thru dinosaur hunt in a neighboring county. It was a day of silliness including a lunch-on-the-road and picking strawberries at a local farm.
Later that same day, our son knocked on the door with his children who were excited to give us some small gifts they picked out for us while on a Spring Break vacation. As if that weren't enough, the following day, our daughter invited mom and me over for fresh strawberry pie and some fun conversation.
This is some of what being a mom is about. Loving your children, giving them your time and attention, and watching them blossom into parents who do the same. It's not all dinosaur hunts, gifts and strawberry pie, but those things stem from a life well-lived, and children well-loved.
The Bible has much to say about the joys, challenges and rewards of motherhood. In Proverbs 31:26 it says "She opens her mouth with wisdom, and the teaching of kindness is on her tongue." That's what I see when I look at the woman — the mother — I've spent more time with than any other. Wisdom and kindness. A mother who loves her children and theirs. A mother who wants the very best for every single one of them, and stops to call, video chat, and pray for each of them on a regular basis.
There's not enough I can't say enough about the importance of motherhood, so if you're a mom — thank you. If your mother is still living, I hope you'll take it from here. Call her. Write a letter. Fill a card with words that will honor her and place it in her hands.
As you celebrate all that motherhood is and means, let me point you again to the Bible. If you only have time to read one small chapter, read Proverbs 31 where you'll find this in the 28th verse – "Her children rise up and call her blessed; her husband also, and he praises her.