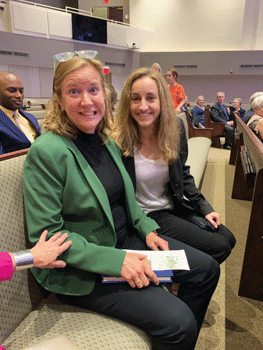 What is so rare as a wedding in northern Virginia? Love is once again in bloom as the Rona mostly fades into the rearview mirror. Postponed nuptials spring forth unabated. We took our first big road trip since the Rona to attend the splendid wedding of my brother's granddaughter.
The festivities were held in a Mega Church with 300 of the wedding party's closest friends. Having never been in an Mega Church we did not know what to expect. The Mega Church is doing something right as the congregation consisted mostly of Millennials and their kids. Many mainstream churches have aging congregation syndrome. They tend to have as John Prine once sang, "Hearing aids in every pew." The bride's relationship to me is that of great niece once removed or something like that. It puts me in a demographic that emphasizes the effects of calendar creep — e.g., older than dirt.
The ceremony was upbeat and filled with laughter. Although the bride and groom were no longer teenagers, to quote Chuck Berry's song "You Never Can Tell" — "You could see that Pierre did truly love the mademoiselle." The vows were interesting. The bride promised to joyfully and/or meekly submit to the leadership of the husband. My wife, who is a lawyer, seemed a bit surprised by this section of the vows. Personally, I thought it was a great idea. Unfortunately, I have had absolutely no luck convincing her to either meekly or joyfully submit to me. Knowing my great niece is not a pushover by any means, all I can say is good luck to the groom on that part of the vows. But as Mr. Berry said, "C'est la vie, say the old folks, It goes to show you never can tell." We wished them well.
In my last column I whined about the lack of Cicadas in Fayetteville. I got my wish for an insect chorus in Virginia. The motel where we stayed was surrounded by trees featuring an abundance of Cicadas in lust. The love song of thousands of horny Cicadas sounded like Martian spaceships. It was beyond loud. It was colossal. Stupendous. The 17-year wait was worth it. Them bugs can belt out a love song better than J. Alfred Prufrock.
We headed into the District of Cicadas after the wedding for a fact-finding mission to see how our nation's capital has survived the Rona. We had reservations at The Churchill, our favorite D.C. hotel in the Dupont Circle area. Having stayed there many times I did not read the fine print on the emailed confirmation. Oops, large mistake. In the interim since our last stay, The Churchill had decided to add what they euphemistically call a "Resort Fee" of $100 a night. That is on top of the room rate. Woody Guthrie warned about Resort Fees in his song "Pretty Boy Floyd"— "I've seen lots of funny men/ Some will rob you with a six-gun/ And some with a fountain pen." It was my error by not reading the fine print so it was my fault. However, to both of my Gentle Readers, study the fine print to look for the words "Resort Fee" before you confirm your reservation. You will be glad you did. Do as I say. Not as I did.
D.C. is still pretty much in the depths of the Rona lockdown. Many stores have closed. People on the streets are wearing masks. Even the Starbucks only has take-out caffeine. Traffic is actually very tolerable as there ain't much. We were in walking distance of Obama's D.C. residence so we walked over to pay our respects. We got as close as the end of his street where a D.C. cop was parked. Uh oh. That did not look encouraging. I walked over to the car as non-threateningly as I could. "Any chance we can go see the house?" I asked. "Not a chance" he replied. But I had to ask anyway. Nothing ventured, nothing gained.
We had more luck with the museums. Most of the Smithsonian museums have not reopened. The ones that are open use free timed tickets to keep crowds controlled. We spent five hours in the National Gallery of Art which gave us hope that the Rona closings are actually going to end at some point. After being booted out at closing time, we attempted to get an Uber ride back to our hotel. No luck. We had never been anywhere that Uber wasn't available. The Rona struck again. Plan B involved going back on the Metro. My wife is not a fan of subways but the alternative was to sleep on the street so away we walked.
As we walked, a very nice lady carrying her painting of Saint Lucy approached us. Out of the blue she asked us how long we had been married. I told her 45 years. She then told us we were "cute." This officially marked the line where we went from the north end of middle aged to the elderly "cute." I have certainly been called worse things than cute. In fact, this was the first time I had ever been called cute. I wasn't even cute as a baby.
When we reached the Metro it was rush hour. No crowds. Lots of empty seats. The Rona still lives in D.C. Get vaccinated. The life you save may be my own.