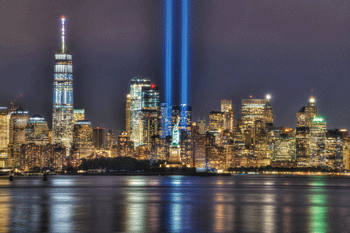 Some events in American history engrave our minds so deeply that we remember where we were and what we were doing when they occurred. We mark our lives as BE and AE, before the event and after the event.
November 22, 1963. It was a Friday and I was at school in my after-lunch class when the intercom interrupted to tell both teachers and students that President Kennedy had been shot in Dallas.
July 16, 1969. American astronaut Neil Armstrong became the first human being to set foot on the moon, calling it "a small step for man but a giant leap for mankind." I was taking my shift waiting tables at a resort restaurant as my summer job.
September 11, 2001. I was in the Cannon Office Building next door to the U.S. Capitol with a delegation from the Fayetteville-Cumberland County Chamber of Commerce awaiting a briefing from the U.S. Secretary of Commence who never showed up because he, like every other American, was torn from his prior life by planes flying into the World Trade Center's Twin Towers.
January 6, 2021. The insurrection directed by a losing presidential candidate erupted around and eventually inside the U.S. Capitol, leaving 5 dead and many others wounded, including law enforcement officers. Arrests continue as rioters are identified and charged. I was at home watching an attempted coup unfold on television with tears streaming down my cheeks and my heart hammering.
It has been just over 6 months since that dreadful day, and Americans are still absorbing an event that saw Americans engaging in military-style hand-to-hand combat with each other. The insurrectionists were mightily upset that their candidate was the clear loser of the 2020 presidential race, with more than 7 million fewer popular votes and 74 electoral votes behind.
The election was not close, and the rioters failed to force Congress not to certify the election results. The rioters claimed to support democracy at the same time they attempted to overturn a presidential election.
Six months ago, even the loser's party officials condemned the mob actions, but memories are apparently short or political courage in short supply or both. Today, the loser's supporters cry "voter fraud," with virtually no evidence of it. The idea is to restrict minority voting, a replay of what happened during the Jim Crow era in our nation. Déjà vu of the early 20th century in the early 21st.
Our country is also closing in on gerrymandering season, the time when legislatures and some independent commissions redraw legislative and Congressional districts to reflect the findings of the most recent U.S. Census. Fierce battles are expected, including in North Carolina, as one party tries to win more seats by gerrymandering even though it has fewer voters. This tactic has been used by both parties since the birth of our nation, and we will see it again later this year. Déjà vu 2011 in 2021.
The really shocking aspect of the insurrections "after event" reality is that so many Americans have simply moved on, something that did not happen after the Kennedy assassination or 9/11. Maybe it is because life moves so quickly in our technological age or because they no longer want to think about Americans in combat with other Americans or because they want others to forget the deadly rioting. Whatever the motivation, pretending an insurrection did not happen in and around the grounds of the U.S. Capitol is profoundly dangerous, as it the belief that the losing candidate will be reinstated, a sort of political resurrection. As the writer and philosopher George Santayana reportedly said, "Those who cannot remember the past are condemned to repeat it."
The terrifying reality is that they just might succeed next time.