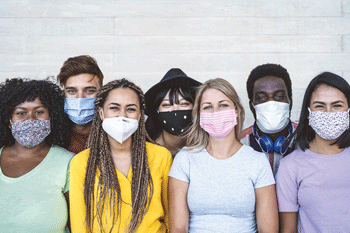 If you feel like the rug has been ripped from under your feet, you are not alone. Just as we began feeling safer about being out and about and around people we do not know, a newer and more virulent COVID-19 variant dubbed Delta, has upended our lives yet again. The current surge is driven by and striking the unvaccinated, seriously sickening them, sending them to hospitals and killing some.
The vaccinated, many of whom are heeding the CDC's recommendation to re-mask indoors, are far less affected and, if they are affected, they are far less sick. As Aaron Carroll, chief health officer for Indiana University, wrote in The New York Times, "COVID-19 is not even close to a crisis for those who are vaccinated, but it is a true danger to those who are unvaccinated."
Dr. Mandy Cohen, Secretary of the N.C. Department of Health and Human Services echoes Carroll. "This is a pandemic right now, of the unvaccinated. The virus will find them," she said. Distressingly, the Delta variant is far more contagious than earlier COVID viruses and can be spread by both the unvaccinated and the vaccinated.
The situation varies widely across the nation, largely reflecting vaccination rates in different states and communities. This is clearly true in North Carolina where one county, Richmond, is currently designated red, meaning "critical community spread."
Twelve other counties, including Cumberland, are orange, the next highest level. Cumberland's vaccination rate remains low, with only 30% partially vaccinated and 28% fully vaccinated. Cumberland's COVID-19 positivity rate is over 9%, with the goal being below 5%.
Statistics can be difficult to absorb but if you remember only one of them, remember this. In North Carolina, 94% of the new COVID-19 diagnoses are now among the unvaccinated.
Health officials acknowledge different reasons why Americans remain unvaccinated. Some are victims of our culture wars — so insistent on their individual right to choose that they are willing to risk their own health and the health of those around them. Others have deep misgivings about past medical treatments within their own communities, and others find getting vaccinated inconvenient — they have no transportation to a vaccination site, cannot leave their jobs, have no child care or other personal situations.
All of that said, health and government officials are doing their darnedest to entice Americans to vaccination centers with cash payments, lottery drawings, free rides and on and on.
They are doing so because none of us, vaccinated or not, cannot really move on until the pandemic is under control, and that is unlikely to happen until more people are vaccinated.
The private sector which has largely stayed away from the vaccination issue is becoming impatient with the pandemic's effect on our economy and is moving to require vaccinations among employees, saying essentially, "no shot, no job."
Howls of protest fill our TV screens, but the truth is, the United States has long required vaccines. Children cannot go to school without them and visitors cannot enter our nation or others without them.
If you fear side effects or bizarre notions of microchips entering your body through a thin needle, look around you. Vaccinated people are going about their lives just fine, because vaccinations work.
If you need more incentive, go back to the statistics. Of Americans now testing positive for COVID-19, becoming ill and dying, 94% are unvaccinated.