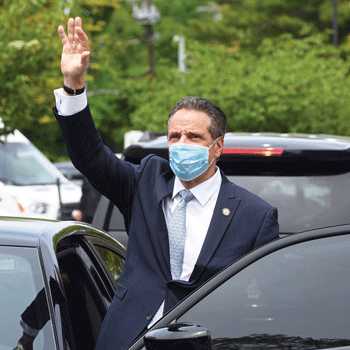 Andrew Cuomo has resigned as a three-term Governor of New York after a parade of women alleged improper conduct and sexual harassment. Here is some of what he said in his official statement.
"I thought a hug and putting my arm around a staff person while taking a picture was friendly, but she found it to be too forward."
"I kissed a woman on the cheek at a wedding and I thought I was being nice, but she felt that it was too aggressive."
"I have slipped and called people 'honey,' 'sweetheart' and 'darling.' I mean it to be endearing, but women found it dated and offensive."
"I said on national TV to a doctor wearing PPE and giving me a COVID nasal swab, 'You make that gown look good.' I was joking, obviously, otherwise I wouldn't have said it on national TV. But she found it disrespectful."
"I have been too familiar with people. My sense of humor can be insensitive and off-putting. I do hug and kiss people casually, women and men. I have done it all my life …. In my mind, I've never crossed the line with anyone, but I didn't realize the extent to which the line has been redrawn."
"There are generational and cultural shifts that I just didn't fully appreciate, and I should have. No excuses."
Cuomo is correct on both counts. Women today are less willing to tolerate behaviors we have tolerated in the past. And, he should have known better.
I am Exhibit A of "generational and cultural shifts." I have a photograph of myself with then U.S. Senator Al Franken of Minnesota taken at a political fundraiser in 2016 before Franken's own fall for bad boy behavior.
We are standing beside a dining room table, and he has his arm around my shoulder. No groping that all women find offensive, but it is telling that I never even noticed that a man I had met only minutes before had his hand on my bare shoulder until I saw the photo. A younger woman would have been far more conscious of physical contact than I was.
Among the most bizarre aspects of Cuomo's behavior is that he publicly positioned himself as a women's rights and feminist advocate, all the while behaving like what back in the day was called a "male chauvinist pig," or MCP for short.
Cuomo, like millions of other men including Harvey Weinstein, Charlie Rose, Bill Cosby, Donald Trump, and countless ordinary men have not read, much less acknowledged, the change memo.
Cuomo et al., men of a "certain age," apparently believe they are not subject to the same rules, and laws for that matter, regarding human interactions that apply to the rest of us. Famous men have fallen, flamed out, or otherwise dropped from sight, as have many average Joes, believing themselves special and exempt.
"Honey, sweetheart, and darling" are one thing, and some men may never get the point on that score, even though women keep trying.
A lawyer friend whose client asked her to wear a certain dress to a meeting, told him, "sure, as soon as you pick it up from the cleaners."
Even the most boorish guys sometimes get it after taking such incoming from women they offend.
Unwanted touching, groping, harassment, threatening job security are something else altogether, and men have lost families, careers and freedom over them.
I have to believe men are getting the message, whether they like it or not. Cuomo et al., have become the poster boys of unacceptable, sometimes criminal, behavior.
Public humiliation, not to mention prison time, generally gets people's attention, and they are changing behaviors, however slowly.
Cuomo's resignation looks like progress to me.
Pictured above: New York Governor Andrew Cuomo. (Photo courtesy www.facebook.com/GovernorAndrewCuomo/)