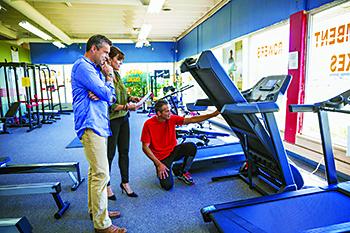 When selecting gifts for the holidays, consider giving a fitness-oriented gift to that person on your list. Gifts that bring the gym to you are popular items for the fitness enthusiast
The most popular bike on the market is Peloton for indoor stationary exercise. It is a choice for those who would like to invest in a bike for home. The bike comes with a computerized screen that offers the participant a ride with live streaming or on-demand classes for a monthly fee.
The Nordic Track Commercial 1750 treadmill comes with a 14-inch touchscreen, and a lot of training options. It has keys to jump to a speed or incline with a single tap and an underfoot 22 by 60-inch deck to walk, jog or run. The Stair master 8 series Free Climber offers a workout for the cardio enthusiast. It comes with 10 programs that include a quick start, manual, fat burner, calorie burner, intervals, cup holder, streaming and Bluetooth.
The Tonal gym is a wall-mounted gym that is tailored to your fitness goals and works with digital weight. It adapts to your fitness needs and keeps track of your performance.
TRX is an all-in-one suspension trainer that takes up minimal space, can be used indoors or out, and was designed by a Navy Seal. The suspension training system is designed for complete body weight work with degrees of intensity based on body positions. It is considered all core all the time because the suspension system challenges the body to keep stable movement during exercises.
For the boxing enthusiast, Fight Camp can transform any space into your boxing gym. The boxing enthusiast will get a complete package for all your knockout rounds. Accessories include gloves, punch trackers, a free-standing bag, a mat, and on-demand workouts.
The Mirror is a sleek mirror that takes up minimal space and can be propped against the wall. Have your work out while watching a fifty-inch reflective surface with thousands of classes and workout types from five to sixty minutes.
Have someone on that gift list that loves technology and the latest trends and accessories? Technical gifts can consider many actions of the recipient from walking to sleeping.
The Apple Watch Series 8 is a fitness partner that fits on your wrist. The Apple Watch tracks all your workout routines with metrics to keep you on top of your goals. It tracks heart rate zones, power and elevation, and keeps information on your running pace. It is water-resistant and tracks your heart rate and blood pressure.
The Fitbit Luxe watch is a fashion accessory that blends in with all your attire whether in the gym or at leisure. It has features for fitness, health, sleep and stress as well as call and text notifications. Rather wear a ring than a watch? The Oura Ring Generation 3 is a subtle accessory that comes in two styles, and five finishes, and tracks your activities, meditation and sleep.
Jisulife has a portable neck fan to use for indoor cycling or activities such as marathon preparation. It helps keep body temperature down, is battery operated and rechargeable with three speeds. The Hidrate Spark water bottle is designed to keep you hydrated throughout the day. It includes a glow factor to remind you to drink, and tracks every sip or drink you take, with an app that recommends a daily water goal tracking your progress.
The Blend Jet portable blender comes in a large assortment of fashion colors that blends your favorite drinks and smoothies while on the go.
Live, love life and give fitness gifts.