In being asked to do this article, I was introduced to the both beautiful and little known art of scrimshaw. I, like most people, had never heard of the practice, probably due to the fact that it was most popular in the mid-1700 and early 1800s, but is now getting some of the recognition it deserves.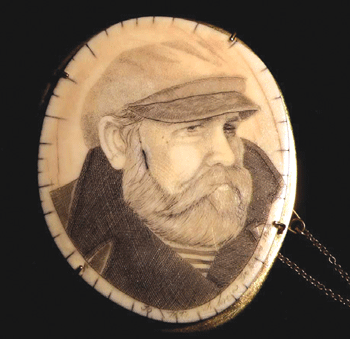 Scrimshaw is the act of carving images into the surface of the bones or teeth of sperm whales, the baleen of other whales and sometimes the tusk of the walrus. After the picture is carved, the image is then highlighted with some sort of pigment or ink. The making of scrimshaw began on whaling ships between 1745 to 1759 on the Pacifi c Ocean, and was widely popular until the late 1800s. Scrimshaw is derived from the practice of sailors on whaling ships creating common tools, where the byproducts of whales were readily available to them. The term originally referred to the making of these tools, only later referring to works of art created by whalers in their spare time. Early scrimshaw was done with crude sailing needles, and the movement of the ship, as well as the skill of the artist, produced drawings of varying levels of detail and artistry. Originally, candle black, soot or tobacco juice would have been used to bring the etched design into view. Today's artists use fi ner tools in various sizes, mostly borrowed from the dental industry. Some would ink their work with more than one color, and restrained polychromed examples of this art are now popular. The work of whaling was very dangerous at the best of times, and whalers were unable to work at night. This gave them a great deal more free time than other sailors and since whale bone was ideally suited for the task, and was easy to work and plentiful, the development of scrimshaw took off and stayed popular for many years.
The market for whale teeth, (which was sought by Chinese traders for use in the Pacifi c Islands), was fl ooded after a narrative by an American sailor revealed both the market and the source of the teeth survived until the ban on commercial whaling. The practice survives as a hobby and as a trade for commercial artisans, such as Kenneth L. Baldwin.
Kenneth Baldwin is a Cincinnati Ohio native, and is both a musician and artist that has worked in many different ventures including painting, book and magazine illustration and of course, the art of scrimshaw. Graduating from Cincinnati Art School of Advertising, he worked in advertising and commercial art until joining the US Navy as an illustrator; it was there that his love of scrimshaw fi rst began. "During my time in the navy I became quite interested in naval history and I remember seeing pictures of scrimshaw in history books, and was instantly attracted to its beauty and the craftmanship of it." His work has been displayed in multiple galleries, museums, and with private collectors in the United States and in Europe. Along with his love of art, he has also been blessed with the talent of composing and performing music pieces. Since the early 1990s Kenneth has served as a primary songwriter and instrumentalist for several acoustic ensembles and also as a soloist and his compositions have been used on National Public Radio stations across the country.
Recently retired from the service and a new Fayetteville resident, Kenneth has been busy since he arrived, writing a one-act play, children's book concepts, and a project consisting of a collection of new compositions for a recording of original American Civil War era songs.
Hank Parfitt, founder, director and past President of The Downtown Alliance says, "We're very excited about presenting this installment by Kenneth Baldwin, it is truly unique. I do not think that Fayetteville has ever seen such an exhibit, and I think that people will really enjoy it."
Kenneth has seen a great response to his work from the public. "I think people are fascinated by this true American art form. It's a delicate and meticulous process, and people are always interested in the time that it takes and care that it takes to create this art. Scrimshaw has been around a long time, but it's not a well known art form, although it is seen often on knife handles and similar items."
When asked about the sometimes controversial usage of rare materials, Baldwin states "I rarely use whale teeth or walrus tusks any longer, but use the more environmentally friendly faux ivory. Other times I use Mastedon and Mammoth tusk, once they have been dried and prepared, which really adds to the carvings antique look and feel.
You have a chance to view Kenneth Baldwin's art and sample his music this month at the City Center Gallery and Books on Jan. 28, located at 112 Hay Street, Fayetteville N.C. 20301. For more information call City Center Gallery and Books at 678-8899.