Details

Tuesday, 13 June 2023
Written by Staff Report
Fencers from Fayetteville recently competed in a USA Fencing sanctioned event in Wilmington. All-American Fencing Academy fencers Bruce McRae and Isaac Canady ended up facing each other in the Division 3 semifinals where McRae defeated Canady to take 3rd place while Canady took 5th place, a bout away from earning his national rating. Isabelle Guevarra took 11th place in the same event.
In the Open event, All-American Fencing Academy Head Coach Gerhard Guevarra also faced coaches from other clubs and placed 1st. Andrew Iford took 3rd place. Isabelle Guevarra also competed in the Open placing 8th while teammate Canady placed 15th.
Canady has been fencing for a little over a year at the All-American Fencing Academy. Since starting he's become captain of the men's foil team, become a varsity team member of the Fayetteville Homeschool Fencing Team, and has competed in over 20 events.
Iford is a multi-weapon fencer who has national ratings in two weapons. He is also a 1st Lt. in the Army at Fort Liberty. Iford previously fenced for the Wallingford-Swarthmore Panthers Fencing Club in Philadelphia.
Isabelle Guevarra, a rising high school Junior, has been fencing since she was 7 years old and has a national rating. Currently ranked 3rd in her high school, she plans on attending UNC Chapel Hill and trying out for the UNC Varsity Fencing Team. Isabelle's parents are both graduates and were varsity letter fencers from UNC Chapel Hill. Her father, Gerhard, is the head coach at All-American Fencing Academy.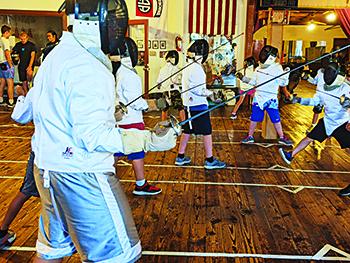 The Academy welcomes new members of all ages. They host a walk-in class during Fourth Fridays for only $20, with equipment provided.
The Academy also hosts the Beginner Olympic Fencing Summer Camp. No experience is required and the camp provides all the equipment.
Fencers will learn footwork, blade work and bouting. The fencing camp will be led by Academy head coach, Gerhard Guevarra. His notable experience includes UNC Varsity Fencing 1996-1999; NC Division Champion 2008, 2011, 2013; 2006 Vancouver World Cup participant; and two time USA Fencing North American Cup medalist.
The Beginner Fencing Summer Camp will be held in downtown Fayetteville from June 16-18 from 10 a.m. to 1p.m. Registration is open to ages 7-12 and teens (school age). Participant registration fees start at $120 and limited openings are available.
More information about the summer camp can be found on the All-American Fencing Academy's website www.allamericanfencing.com or by calling 910-644-0137.
The All-American Fencing Academy is located at 207 B Donaldson Street. It instructs and trains recreational and competitive fencers starting at age 7, teens, adults, and veterans ages 40+. Its fencers compete regionally and nationally. Their coaches include former World Cup and NCAA fencers.
For more information about the All-American Fencing Academy and its classes, please call or e-mail info@allamericanfencing.com or visit www.allamericanfencing.com.