Details

Tuesday, 04 October 2022
Written by R. Elgin Zeiber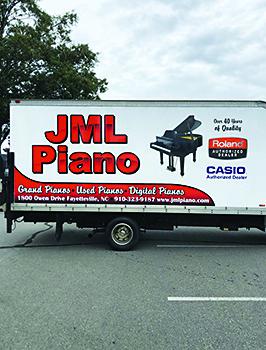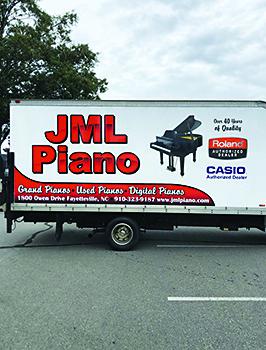 JML Piano has been in Fayetteville since 1987, located in the Bordeaux Shopping Center, where the Donald family has been selling musical equipment for the better part of 40 years. "JML" is made up of owners Jim (dad), Mike (son) and Linda (mother).
"We focus on being a family-owned and operated business, and a lot of people like that," Mike Donald said.
JML Piano offers quality pre-owned grand and upright pianos from manufacturers such as Yamaha, Kawai, Steinway & Sons, Baldwin, Boston, and Wurlitzer that have been cleaned, adjusted, tuned and professionally prepared.
"We're big on service after sale, and you don't get that level of service with either an online company [or big chain store]," Donald said.
JML Piano specializes in Roland and Casio digital pianos. It is a "top tier" supplier for both, as well as a Roland "service provider."
"[For instance], not long ago I had a customer that had a digital piano [for] about six months," Donald said. "It was an $8,000 digital piano, top-of-the-line product, and, rather than fix it and put a bad taste in his mouth, I decided to replace it for him."
Bear in mind JML Piano "only services what [it] sells" because digital piano circuitry is redesigned every seven years. This means manufacturers like Baldwin Pianovelle, GEM, Suzuki, Technics, Kurzweil, Samick, Williams, (some) Yamaha and a few others cannot be serviced because parts are discontinued seven years after the date of manufacture.
If you have a digital piano made by one of these manufacturers, turn that frown upside down. JML Piano offers "large discounts" to owners of unserviceable digital pianos. Roland and Casio are considered to be reliable and make replacement parts.
Roland and Casio just don't break down, but, if they do, we can easily find the parts to fix them, Donald said.
JML Piano is also a professional moving company that is prepared to haul your piano locally or long distance. JML Piano owns a temperature-controlled warehouse where it can store your piano for as long as you want. Need a piano for school or church? JML Piano can help.
Also, JML Piano offers the occasional piano rental and a two-year 100% trade-in policy on items owned by JML Piano.
In addition to running JML Piano, Mike Donald is the front man for Reflections II, a local variety/party band that includes Mike on keyboard and bass, Paul Tyler on guitar and Vince Groves on drums. Each member delivers lead and backup vocals.
"[We play] beach music, classic rock, country, party songs, and we get the crowd involved. [We] entertain, not just play, [and] we've always been that way," Donald said.
Jim and Mike Donald began Reflections in 1980. Reflections has withstood many familial line-up changes, and, so to speak, the band resurrected with its current line-up.
Mike Donald runs JML Piano alone and by appointment only in the Bordeaux Shopping Center, located at 1800 Owen Drive. Look for the miniature Eiffel Tower in front of the plaza.
To schedule an appointment to look at a pre-owned grand or upright piano, a brand new or used digital piano, talk about any of the services JML Piano offers or hire Reflections II, please visit JMLpiano.com or call Mike Donald at 910-977-0809.