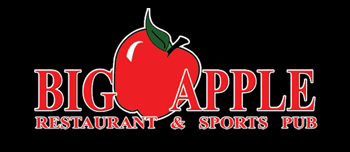 A long time Fayetteville favorite for good food, a good time and good company, the Big Apple has recently undergone a few changes. Not only has the restaurant added a patio with a full bar and seven 50-inch televisions, owners are also focusing their energy on being more than Fayetteville's premier night club, they are embracing the family restaurant and sports-bar scene as well.
General Manager Mike Callahan runs a tight ship, and with so much going on, it is no wonder that the restaurant is so well known for its evening activities.
"We are not a pub, we just happen to have a popular night atmosphere from 9 p.m. on," said Callahan."We are a restaurant and sports bar — we just happen to have a big nighttime following because of our late-night entertainment with DJs and karaoke and things like that."
The massive multi-roomed establishment just outside the Yadkin Road gate of Fort Bragg features something for everyone.
It is open at 11 a.m. Monday through Friday and at noon on weekends serving American, Italian and Asian cuisine in a family-style restaurant. Snack on appetizers, have a sandwich, soup or a steak. The restaurant even offers $5 lunch specials that will fi ll you up without breaking the bank. The dining room is located at the front of the building and offers plenty of kid-friendly seating away from the noise and fracas of the sports pub.
Customers can relax in the quie, and distinguished, private bar/cigar parlor and enjoy all of their favorite labels while chatting with friends or just enjoying the calm atmosphere of the room.
"The cigar parlor has its own ventilation system, so if you want to smoke a cigar indoors you can do it in that room," said Callahan. "It has three big screen TVs and a fi replace so you can get cozy and intimate. We also feature live music in there on Friday nights."
With eight pool tables and 25 big screens, Big Apple offers its patrons a chance hang to out with friends without missing their favorite sports team or pay-per-view sporting event. The restaurant carries all of the sports packages, so their customers won't even miss a play this season.
If sports aren't your thing, no worries. Dance the night away or sing karaoke till the wee hours. There is something to do here every night — NFL Sundays, Monday Night Football, karaoke contests on Tuesdays, live DJ spinning your favorite tunes on Wednesdays, military appreciation Thursdays, and DJ V. Smoove on Friday and Saturday. Throw in the awesome drink specials and great dining room deals that rotate daily and you've got a great time ready to happen — all the time.
There's a party to celebrate most every occasion, like the New Year's Eve Silver, Gold and Black party that recently crowned Fayetteville's King and Queen of the New Year. Super Bowl Sunday, which is Feb. 6, will bring another party with prizes given away quarterly and raffl es and other gifts, too.
"We have a ski package for two — including lessons, a stereo system to give away and Time Warner is giving us a GPS unit to raffl e. Cumulus Broadcasting is giving us two N.C. State tickets," Callahan said. "We also have a package to Renaissance Day Spa ... just for the ladies. It includes a manicure, a pedicure, a massage and a year-long membership to The Spa. It is going to be a mad, fun day."
Check out the website at www.bigapplefay.com or call 868-5559 to fi nd out more.