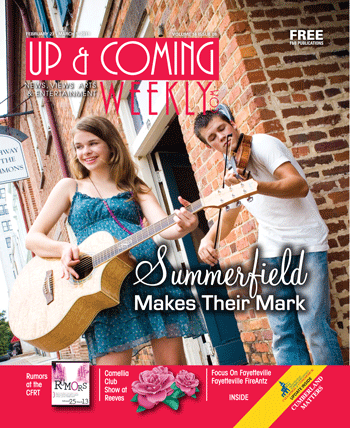 While most teenagers are focused on school, clothes, cars and members of the opposite sex, two Fayetteville teens are focused on the music industry — and in the words of the late, great Frank Sinatra — they are going to "do it their way."
Fifteen-year-old Summer Collins and her cousin, Isaac Ball, just 19, make up the rising musical duo known as Summerfi eld. The name, which many think is a play on Collins' name, actually is significant to the two.
"We think Summerfield and it's a thriving meadow," said Ball. "Like our music, it's a changing, growing thing."
The two have been involved in music all of their lives, but it was only last year, when they opened at the Dogwood Festival that the band gelled. Ball and his brother came up from Florida to back Collins up for the festival and her performances. Ball and Collins clicked and the idea of becoming a band was born.
Two months later, Ball moved to Fayetteville from Florida and the pair began writing. Over the summer they wrote more than 30 songs and ultimately selected 15 for their CD, Sunlit Destination.
"There was something there. We knew it was right, and we knew we could be successful at it," said Ball.
The band's sound is eclectic. They are not quite country and not really pop. Their sound has most often been referred to as Lady Antebellum playing Taylor Swift — minus the angst of Swift.
The duo writes music based on their lives to this point — what they've learned and are continuing to learn. Collins had written four songs prior to her partnership with Ball. Three of those songs made it on to the CD. Ball, a classical violinist, had also been writing prior to his move to Fayetteville, but both found that the combination of their talents opened up their creative juices.
"We had weeks where we were writing together that we were writing all week, and then weeks that we just sat and played chess," said Ball.
"Last summer was song writing, chess, writer's block, peanut butter and jelly sandwiches and Raisin Bran," added Collins.
"We have seasons that we write in," said Ball. "It's a very on and off process."
"Sunlit Destination, the title track, is a southern rock anthem about roads not taken and possibilities. "Everything," another song on the CD is about Ball's dad.
"You don't realize what you have until it's gone. I got up here and realized how much I missed my Dad, and the fact that I realized that he made me who I am," he explained.
After spending the summer writing songs and learning about the music industry, the pair headed to Nashville, Tenn., where they recorded the CD.
"We went up there twice," said Collins. "While we were there, I sang all of the songs on the CD and Isaac laid down all the violin tracks. It was really awesome being behind the mic and singing all of our songs."
In between takes, Collins sat on the couch and did her homework. The music is the focus, but both Collins and Ball have had to learn how to balance their lives.
"When she's at school, school is her job, and I work part-time at Huske," explained Ball. "But when we are home, Summerfield is our business."
And business is booming.
"We are completely and totally independent," said Ball. "We were approached early on by a lot of producers — multi-platinum producers, A&R agents and labels. Summer even had a written letter from the producers of American Idol to allow her to compete because at the time, she was too young. But we turned all of that down. We both own Rock the Boat Records and Summerfield Entertainment, the business arm that owns the publishing rights to the duo's music. We do this entirely independent and will continue to do this independent."
Taking the independent route is not easy, and the two have had to learn about the music industry quickly.
"We already have some of our songs on iTunes and other sites for distribution," said Collins. "With radio play it will become a supply and demand — if people really want to hear our music then they will play our songs on the radio."
"We've really had to dive into the business aspect of our music. We have had to learn about Web presence, publishing, distribution — getting our music on the radio," continued Ball. "We've spent a lot of time reading and learning. A lot of the producers that we talked to early on have been a great resource. They've said, 'OK, if you aren't going to come with me, at least listen,' and they've given us great advice. It's really become a full-time job."
Pairing that full-time job with their daily lives makes for long days.
"When I come home I have to do my homework and then I work on Summerfi eld," said Collins.
"Summer is being modest," added Ball "She has been nominated for Governor's School. She's an A student and is in honor courses. She is one busy girl, but we stay on her.
"For me it's been rearranging my schedule. I work part-time at Huske. We are "indipreneurs" — we run an independent label, it's a full-time job. Our business is our life. That's what it has become for both of us. It takes until 3 or 4 a.m. before you go to bed, and we do that because we believe in our music."
That belief has led to the development of a fullblown campaign that began with the recording of their CD. The next step is getting out and getting their music heard by the public.
"Part of that is playing shows," said Ball. "We are going to headline at the Duck Derby and we will perform at the Dogwood Festival and at other shows. It is important that we get out and put our music in front of the public and let them hear us live."
This grassroots approach is directed at Fayetteville first and then the surrounding area.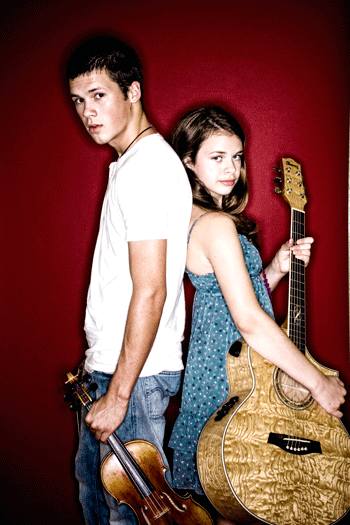 "We want to get Fayetteville behind us," said Ball. "Our heart is in Fayetteville. We started this as a grassroots campaign, but in the age of YouTube, and Facebook, France is also grassroots."
With that in mind, the other half of their campaign is focused on web dominance.
"We spend a lot of time online," said Ball. "We are on Facebook, Youtube, Twitter, My Space. We have more than 1.4 million channel views on YouTube and we are speaking to people all over the world on a daily basis through blogging and Twitter. That's a full-time deal."
"People are really liking our music and they seem to like us," said Collins. "When they listen to our music and watch our videos, they leave really nice comments."
The videos, by the way, are also produced, filmed and acted out by the pair.
"It's awesome to get a message from somebody in Austria who said they downloaded the song and it made their day," said Ball. "It can be overwhelming."
But the two have the grounding presence of Collins' father Josh, and his wife, Tonia, to help them out when they get overwhelmed.
"Josh and Tonia are always there to give us advice," said Ball. "Sometimes we hash out decisions with them, but we make the majority of our decisions. We've never had any conflict because we all share the same values."
To keep up-to-date with the band, visit their Facebook page at http://www.facebook.com/pages/ Summerfield/175839475765506 or see them on YouTube at http://www.youtube.com/user/TheSummerfieldBand?feature=mhum.