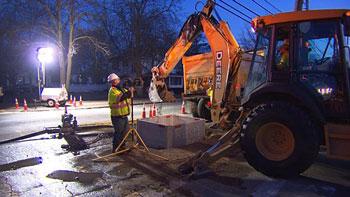 At 1 p.m., Saturday, Jan. 6, the Fayetteville Public Works Commission noticed water levels in some elevated water towers were dropping. It wasn't until 4 p.m. that PWC discovered a massive flow of water on Langdon Street a couple of blocks from city Fire Station 14. Two hundred yards or so off the road, a crew found the problem: A valve on the end of a 48-inch water main stub-out had burst, and water was gushing horizontally above ground.
It was the worst of several dozen water line breaks that first began occurring Jan. 2. Temperatures had plunged below freezing New Year's Day and stayed that way until Jan. 8. Nearly the entire PWC water distribution system of 1,400 miles of cast iron, ductile iron and PVC water pipes encountered problems. It was the worst mass water service interruption career crew members have seen.
PWC team leader Tony Lucas and his crew were working on a water leak on S. Main Street in Hope Mills when he was splashed by rushing water. "My pants immediately froze to my legs," Lucas said. The temperature had fallen to 11 degrees. On another occasion, Lucas said, his boots froze solid. Water valve technician James Pickens was called out Saturday and shut off an estimated 30 valves over the course of two days.
"I've got a tremendous group of guys," said Chris Rainey, operations manager of PWC's Water Resources Division.
Rainey said it took two hours to shut down the Landon Street water main where a 12-inch line was coupled to the 48-inch main. He said the valve split in half, and they still haven't found the half that broke off. It took another two hours to drain the line before repairs could begin.
Large water mains also burst on Sunset Avenue, Southern Avenue and Anarine Road. Water levels dropped in five 1 million-gallon water towers, causing the gravity distribution system to falter. Rainey said he had 85 crewmen working over the Jan. 6-7 weekend.
At about 6:30 p.m. Saturday, PWC issued a precautionary boil water advisory, according to Communications Officer Carolyn Justice-Hinson. Restaurants began closing because they could no longer use water or ice. She said the system was restored about 10 p.m. as the tanks were refilled. The water still could not be used for human consumption until it was thoroughly tested for contaminants. That took another couple of days.
Rainey said local records indicate there had not been a prolonged spell of a week or more of sub-freezing temperatures since 1968. Even after temperatures rose above freezing Jan. 9, water main breaks occurred. As Rainey explained it, the thawing of the ground relieves pressure on pipes, and they become vulnerable to breaking. They tend to be nuisance type breaks but require maintenance.
"The public was gracious and understanding," Justice-Hinson said of the events. PWC used Facebook and its website, FayPWC.com, to keep the public informed. Comments were for the most part supportive of the dedicated men and women of the PWC, she added.