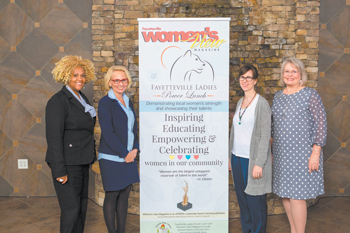 The Fayetteville Ladies Power Lunch is a quarterly networking event held at Cape Fear Botanical Garden focused on inspiring and empowering the women in our community. Each event opens with an exclusive Shopportunity Expo with local vendors and a wine tasting event at 10 a.m. The catered luncheon with entertainment, a keynote speaker and raffle take place from 11:45 a.m.-2 p.m., and lastly, the Shopportunity Expo continues with more door prizes from 2-3 p.m. The dates for the 2020 FLPL events are Feb. 13, May 14, Aug.13 and Nov. 12. The FLPL keynote speakers for 2020 are Donna Clayton Lloyd, Mary Kate Burke, Julie Russo and Dr. DeSandra Washington, respectively.


February 13, Donna Clayton Lloyd
Realtor and Broker in Charge of ANYTHING REAL ESTATE, an affiliate of Townsend Real Estate in Fayetteville
To be chosen as a speaker for the 2020 FLPL, I face a perfect opportunity to live out my life mission of telling the stories from my life and lessons learned that I hope will inspire, educate and celebrate women as other women and leaders have done for me. I believe in passing on every secret to success and acknowledging the lessons learned from the broken places. With God's help and that of others, I want to be a part of the team of women that spreads that word.


May 14, Mary Kate Burke
Artistic Director of Cape Fear Regional Theatre
At CFRT, 86% of our mainstage directors are women. The national average is closer to 35%. The incredible Bo Thorp founded CFRT. For 53 out of its 59 years, the theater has been woman-led. It is important to create opportunities for other deserving women and to mentor them. At CFRT, we make it easy for people to have a family and still work, which is rare in this field. Small accommodations and flexibility allow us to retain incredible employees and provides them a better quality of life.
August 13, Julie Russo
Director at McKee Homes, LLC
One of the ways I hope to inspire women is by helping them connect with other women. The hardest thing about trying or learning something new is the initial discomfort associated with it. I encourage all women to embrace that discomfort because there is no such thing as a wasted education. I like to celebrate the unique talents women bring to the workforce while supporting their efforts to find work-life balance is vital to our success.

November 12, Dr. Desandra Washington
Associate Vice President for Academic Support at Fayetteville Technical Community College
As a young girl growing up in Fayetteville, I had the honor, privilege, and blessing to have mentors that encouraged and motivated me to excel in life. These phenomenal women molded me into the God-fearing, driven, service-oriented woman I am today. It was a given that I would continue the legacy to inspire, educate, empower and celebrate our local women.


Pictured from L-R: Dr. Desandra Washington, Julie Russo, Mary Kate Burke, Donna Clayton Lloyd