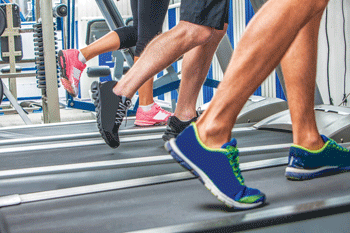 Looking for the right shoe for your activity can become a confusing search, especially when it comes to running and walking shoes. The racks are beckoning with shoes that display colorful combinations and elaborate structural compositions. The average person has little idea what they are looking for other than the eye is drawn to the appeal of the shoe. Shoes can run upward to more than $200 and you may feel that is an ouch for a shoe selection! Is the investment worth it? The answer is yes. Let's look at the difference between walking, running and shoes for group fitness classes.
Walking shoes are structured differently than running shoes and offer more bend and flexibility. The distribution of weight remains even while walking and rolls from the heel to the ball of the foot. A running shoe has a thicker heel for cushion and a thicker wedge for support and forward movement. Structure and stability are the main design composition for the absorption of body weight and heel strikes.
Not one shoe is a fit all for group fitness classes. In a Spin class it is advised to wear a stiffer soled shoe because softer soled shoes tend to flex over the pedal and could result in injuries. Spin shoes are designed to click into the bike to improve stability and pedaling efficiency.
Dance based fitness classes are designed for movement. Consider investing in a shoe that is designed for lateral support with little or no tread on the sole. This type of shoe allows lateral movement and to pivot without putting stress on the joints.
Boot camp and weightlifting classes are safer with a shoe that is structured for stability and weight distribution.
Other group fitness classes, such as step and kick boxing, require shoes that offer absorption of the balls of the feet for dynamic movement. Classes that involve movement associated with the feet like barre and yoga also have a type of footwear that is safe for the activity. A barre or yoga sock comes with gel bands on the bottom that help with the participants stability and reduce the chance of slipping and injury.
The bottom line is to get shoes fitted by a professional for your activity, who can offer an analysis that may include your gait and foot type. If you engage in the same activity more than three times a week select a shoe designed specifically for that activity. Get fitted for your shoe towards the end of the day, due to shifts in fluid retention. For activities taking place consistently at the same time each day the consideration of a fit may be more beneficial for that time.
It is also important to select a quality sock and to wear the sock when tying on selections.
A quality athletic shoe for running or walking should provide 350 to 500 miles of performance. Being aware of how the shoe is wearing and if it needs to replaced, are important observations to prevent ankle and knee injuries. Observing the wear patterns on the bottom of the shoe, especially at the heel is a good indicator for replacement and if the soles of the shoe are worn flat. It can be a hard decision for a purchase with a mounting price tag, but remember that your feet are an investment. Proper shoe fit is essential to avoid injuries, while allowing maximum performance for your activities.