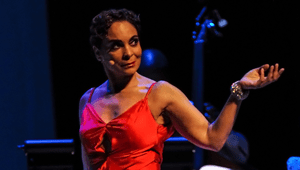 Raisin' Cane, a dance production, is a one-of-a-kind experience on many different levels. It combines some of today's best artists with some of the best artists of the Harlem Renaissance; and it will be on stage at Fayetteville State University on April 10.
The goal of this show is to provide a glimpse back to that magical period of artistic growth. Many artists take inspiration from this integral period, but Raisin' Cane, written and conceived by Harry Clark, is unique in its presentation. It does not focus on just one medium of art. Instead it combines, "text, song, music, movemenT and imagery." This bold combination creates and engaging performance that encompasses the soul of the Harlem Renaissance.
One of the stars of this show is Jasmine Guy. Born in 1962, Guy has had an incredible career that began with a dancing role on the 1982 television show Fame. Since then she has appeared in numerous TV shows and films such as The Fresh Prince of Bel-Air, Drop Dead Diva, School Daze and the Vampire Diaries. She may be best known for her role as Whitley Gilbert, the spoiled Southern diva on A Different World, the spinoff from The Cosby Show.
She received an NAACP Image Award for Outstanding Supporting Actress in a Drama Series. Ever the Renaissance woman, her talents are not limited to acting. She was a dancer with the Alvin Ailey American Dance Theatre and is also known for her singing, directing, and writing. It is her multitalented nature that allows her to so fully embrace her role in Raisin' Cane and influence it with her own flair.
Accompanying Guy, is the Avery Sharpe Trio. Avery Sharpe not only composed the original music score for Raisin' Cane, he is also an acclaimed Jazz bassist. He mastered his first instrument at the age of 8 in Valdosta Georgia, a piano, which he learned from his mother. It wasn't until high school that he began to play the electric bass, picking up acoustic in college. He has played with numerous artists such as Archie Shepp, Art Blakey and McCoy Tyner. He started his own record label in 1994 and has created more then 10 titles for JKNM Records. He has also had tremendous success as a composer. He created and conducted the soundtrack for An Unremarkable Life and several other orchestral pieces. The other two components of the trio are percussionist Kevin Sharpe and jazz violinist Diane Monroe.
One of the major inspirations of this piece is the 1923 novel Cane written by Jean Toomer. Cane is not a traditional novel. It is a series of vignettes, which stand alone as a work of art but combined create a multifaceted story focused on the experiences of African-Americans. Some of the characters reoccur through the vignettes that alternate in structure. The book was not very well received at first, but now is admired for its creativity and courage to depict the truth; especially in a period where caricatures were the norm.
Raisin' Cane will be performed on April 10 at 8 p.m. in the Seabrook Auditorium at Fayetteville State University. The auditorium is located at 1200 Murchison Rd. For more information visit www.fsuarts.com or call 910-672-1571.