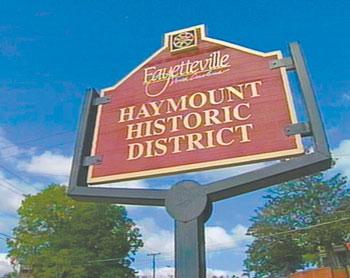 Haymount has all the elements of a standalone community. It's got restaurants, a theater, shopping, a pharmacy, a business district, proximity to higher education at Fayetteville Technical Community College and even its own post office. And personality – so much personality. With homes built between 1817 and 1950, Haymount is listed on the National Register of Historic Places. It was once a neighbor to Fayetteville. But as Fayetteville grew, things changed.
In 1910, this burg was incorporated into the city of Fayetteville. Many of Fayetteville's prominent citizens and founders hail from Haymount, including Fayetteville Observer publisher E.J. Hale and U.S. Sen. Robert Strange. This historic district is centrally located close to downtown and local major shopping centers and is a stone's throw from a first-rate hospital.
Growth is still a theme here. Residents of Haymount benefit from the Museum of the Cape Fear historical complex and will benefit from the changes the North Carolina Civil War and Reconstruction History Center will bring.
As Fayetteville and Cumberland County have grown, in many ways it feels as if Haymount has been swallowed up. Increased traffic runs through its thoroughfares, and busyness encroaches as Haymount is squeezed between downtown and the fast-paced growth that continues closer to the mall.
Can Haymount maintain its magical small-town charm that has endured here for centuries? Will the businesses that have served this community so faithfully continue to thrive?
Haymount is at a crossroads. Literally and figuratively. It would be tragic for this distinctive neighborhood with such personality and the charm of a Norman Rockwell painting to be unceremoniously swallowed up in the name of progress. Yet without thoughtful consideration and planning, Haymount's future is uncertain. So many of the area's newcomers have no idea what a gem Haymount is or why it is significant to local history. And that is a shame.
There have been several studies in recent years aimed at determining the best path for Haymount. And because business owners and families that have defined Haymount for generations love this community and don't want to lose the very things that make it special, it's been hard to move forward. Eventually, something has to happen, or Haymount will lose the opportunity to chart its own path as Fayetteville continues to prosper and change.
On March 10, Build a Better Haymount explores some of the possibilities for what Haymount could look like. From 1-5 p.m., the district will include tree-lined streets, bike paths, a temporary plaza, food trucks, entertainment, art and more. Angie Hedgepeth and Eric Vitale, along with the city of Fayetteville, have spent the better part of a year planning this event with the hope that they can keep the community engaged in the process of change and keep the conversation about Haymount's future going.
The event is free and open to the public. If you've never walked the idyllic streets of the Haymount district and experienced the charm of this one-of-a-kind area, this is the perfect time.
Many thanks to the city of Fayetteville; Angie Hedgepeth of Longleaf Pine REALTORS, Inc.; Cumberland County transportation planner Eric Vitale; the Fayetteville Area Metropolitan Planning Organization; and all the Haymount residents and businesses for their efforts to shine a light on this community as it finds its path forward. Visit www.betterblockfaync. com to learn more.
Thanks for reading Up & Coming Weekly.