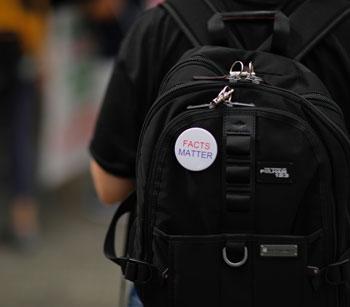 It seems that we have become a nation consumed by protests. Far too often, any occurrence that a few people object to results in some form of protest. They run the gamut, from boycotts to marches, verbal to physical attacks and other actions too numerous to list. A major point of despair for me is that most American protests originate and are executed in a bubble.
This bubble description can be explained by sharing a comment the 13-year-old girl who I mentor made to me. This is the young lady I mentioned in a recent column addressing rap at the Dogwood Festival. She and I are reading a book by Sean Covey titled "The 7 Habits of Highly Effective Teens." Covey gives very thoughtful attention to the process of making sound choices. During our review of one section of the book, that 13 year old said to me, "When making decisions, I do some foreshadowing."
Dictionary.com defines foreshadowing as "to show or indicate beforehand; prefigure." I think "prefigure" is the part of that definition that best reflects what this young lady is practicing. She is, within the framework of her beliefs and values, considering the likely consequences of the various decisions she might make in a given situation. That means she is looking beyond preconceived, knee-jerk, automatic responses to situations.
If that young lady were to take this preconceived, knee-jerk, automatic response approach, she would be operating in a bubble. I contend that this is the condition of most protests in our time. Pick any protest you want that has occurred in the past 50 years, especially the most recent ones, and it will most likely fit this bubble description. Consider the rioting, looting and burning of businesses that followed the fatal shooting of Michael Brown, a black male, by a white police officer in Ferguson, Missouri. The protesting was immediate and followed what has become the routine in protesting. It is done in a bubble.
I think it is disgraceful that so many who protest in our time point to Dr. Martin Luther King Jr. and the Civil Rights Movement as their model, as justification, for protesting. I hold that most current protests seek to intimidate, to bully, others into yielding to their demands. I grew up in the 1950s and '60s, during the Civil Rights Movement. I remember participating in a civil rights march that was led by Dr. King in Atlanta. It was a peaceful march during which I believe the aim was to touch the hearts of our oppressors, and by so doing, prompt them to do what was right. My observation is confirmed by the following from an essay titled "The Political and Rhetorical Strategies of Martin Luther King," available at https://befreedom.co/the-real-and-rhetorical-strategies-ofmartin-luther-king.
"MLK drew deeply from many sources: black history and Christianity; the revolution in revolutionary strategy accomplished first in India; the promise of America embodied in the Declaration of Independence, and Constitution, and the many global struggles against imperialism in Africa, Asia and South America. MLK was fully engaged with both history and the world he lived in.
"Out of this mix King fashioned a powerful political and rhetorical strategy based on a set of closely interwoven concepts and practices: non-violent civil disobedience, love, the beloved community, the America dream and a revolution of values. He relied upon his faith and African-American history to counter fear and fatalism. For King the world is a product of interdependence
and mutuality. He urged us to be conscious of our connection with everyone and everything."
In light of the King strategy described above and my observations from that Atlanta march, consider what I see as a clear example of "bubble protesting" that is totally contrary to the King strategy that proved amazingly successful. Anthony Wall, a 22-year-old black man, escorted his sister to her prom. Later that evening, they went to a Waffle House in Warsaw, North Carolina. An incident took place in the restaurant that resulted in the police being called and Wall being arrested. In the process of that arrest, a white police officer appears to choke Wall, and later, slam him to the ground. Here are the titles of a few of the many videos of the event as posted on YouTube, along with the number next to each title to indicate how many times it was viewed: Officer chokes 22-year-old during Waffle House arrest captured on video (6,800); Black man choked by officer at Waffle House in Warsaw, North Carolina (117,000); Waffle House Under Fire
After Black Man Is Choked by Cop on Video (4,800); Video Shows White Cop Choking a Black Prom-Goer Outside a North Carolina Waffle House (57,000).
Bernice King, daughter of King Jr., responded to this incident by calling for a boycott of all Waffle Houses. The following is from an article by Abbie Bennett titled "MLK's daughter calls for Waffle House boycott after black man choked, slammed by NC cop."
"In a tweet on Thursday, King wrote: "Family, let's stay out of Waffle House until the corporate office legitimately and seriously commits to 1. discussion on racism, 2. employee training and 3.
other plans to change; and until they start to implement changes."
In the same tweet, King shared the News & Observer story about Anthony Wall, 22, who was at Waffle House after taking his 16-year-old sister to prom in Warsaw, North Carolina on May 5.
Bernice King reads a newspaper article regarding the Warsaw incident and immediately calls for a boycott of Waffle Houses. Her response is certainly joined by many of those who watched one or more of the YouTube videos. Reports indicate there are growing calls for a boycott. The question I raise is how does this response to the Warsaw incident compare with the response that Martin King's strategy would have produced? I contend they are at opposite ends of the response spectrum. Look again at that selection from the essay that speaks to the King strategy. I see none of those elements in the response of his daughter to the Warsaw incident. Even further, those elements are clearly missing from the "bubble protesting" approach that has taken hold in America.
More importantly, "bubble protesting" repeatedly fails to produce measurable, positive results. The problem is these protests are not clear in defining ultimate goals and gearing actions toward achieving those goals.
Look at the actions Bernice King calls for in her tweet. What's the goal? How do her proposed actions move toward achieving some goal or goals? Not only is there this lack of goals and thoughtful actions in pursuit of them, racial tension and other protest issues are getting worse rather than better. Bubble protesters would do well to discuss foreshadowing with that 13-year-old I mentioned in my opening.
Finally, the automatic response, the knee-jerk approach of "bubble protesting," hardly ever allows for gathering and examining facts. This adds to the misguidedness of these efforts. In the Warsaw Waffle House incident, every video I viewed started at some point after the white police officer begins interacting with the 22-yearold. After the thousands of views and calls for a boycott, a video surfaces at http://www.newsobserver.com/news/local/article211130829.html.
This video, accompanied by an article, shows the totally verbally abusive and disrespectful conduct of Wall and his sister that led to the police being called. Watching this video sheds a very different light on what happened in that Waffle House. Sadly, bubble protesters will dismiss this piece of information in the name of combating racism.
That 13-year-old who employs foreshadowing would not dismiss it. She would recognize and act on the need for teaching and modeling respect for authority and for others. Obviously, this concept is foreign to bubble protesters.
America needs to recognize and address the great harm being done to our nation by "bubble protesting."