Details

Tuesday, 11 April 2023
Written by Pitt Dickey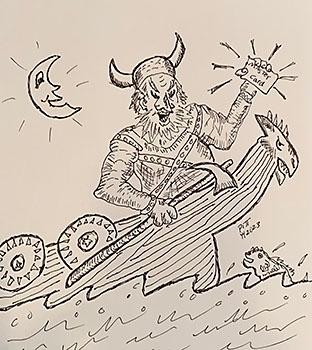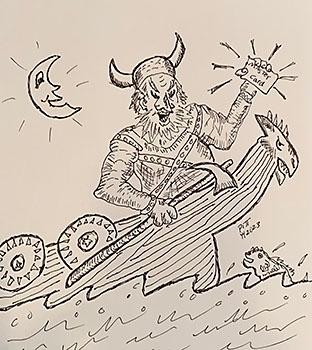 At first glance it appeared to be a floating nursing home, except all the patients were ambulatory. It was in fact, a Viking cruise down the Rhine River. I am a member of a certain age demographic that takes river cruises. We got a cheapo deal with a galley slave cabin on the Swan Deck. That means when you look out the porthole, you see the bottoms of water fowl.
Here is the Captain's Log of floating through Germany. We had one prior trip on a large cruise ship with 5,000 of our closest strangers. The river cruise has only 195 fellow travelers which is preferable to a floating city. On the smaller boat you actually get to know some of your fellow sailors.
We traveled all night on the Dead Eye Flight to Amsterdam. Not much had changed since my last visit 50 years ago except for some new signs. Apparently, some visitors to Amsterdam have to be reminded of their manners. One sign said "No Public Peeing. It's illegal" with a stick figure relieving himself. Another sign said "Don't buy drugs from street dealers. The drugs can be poisoned." Marijuana is highly legal in Amsterdam, but the government wants a cut of the revenue. Despite the signs, the streets smelled like 1968.
I went on an academic fact finding mission to the Red Light district to see if the ladies had changed their sales methods. Fifty years ago, hookers sat in the windows looking bored. In 2023, the granddaughters of those original hookers sat in the windows looking bored playing with their iPhones. I suspect the cooties remained the same.
Back on the boat while consuming adult beverages we were treated to a passenger karaoke chorus singing "How Deep is Your Love" and "Memories" from "Cats." The horror. The horror.
We sailed into Cologne making the mandatory visit to the Cathedral which was impressive and cold. My wife, Lani, went to see a palace. I went to see the Ludwig Modern Art Museum. The museum's overall collection was quite good. Unfortunately, for reasons only known to the curator, about half the museum's walls were dedicated to a special exhibit by someone named Ursula. I like weird. I almost always find weird to be good. Ursula demonstrated that weird can be bad. I became trapped on a floor that was all Ursula all the time. For a few soul freezing moments it appeared I would never get out of Ursula Land.
Next port of call was Koblenz. We wandered into the excellent Hannelore Bar starring a one-man band alternating singing and playing a saxophone. When we walked in he was singing Johnny Cash's "Ring of Fire," followed up by "Take Me Home Country Roads." Until you can say you have heard these songs sung with a Bavarian accent, you cannot truly say you have lived. It was a peppy and cheerful place, far from home.
Shipboard is a challenge to self-control. There are 24-hour-a-day German pastries next to the free coffee. I failed miserably. Germans know their baked goods. They are delicious. (The pastries, not the Germans themselves). What mortal can resist apple strudel and coffee? Weight gain abounds. Each day featured a piano player tickling the ivories for our listening pleasure. One selection was the theme from the "Titanic," seemingly an awkward choice for a cruise boat. I kept waiting to hear "Just Call Me Angel in the Morning" from "The Poseidon Adventure" but it didn't happen.
Our ship's social director was unfailingly polite and competent. However, in a World War II context, I would not have wanted him to be the commandant of my POW camp.
There are many locks on the Rhine. We passed the first one at night. The ship bounced sideways waking me up. At the time I did not realize it was a lock. I suspected an ice berg. The rest of the night I got up periodically to put my feet on the floor to see if it was wet and time to abandon ship. The floor remained dry.
Lani had an unhappy experience with a crab cake. It resulted in her breaking her 40+ year no vomit streak. It reminded me of when Seinfeld looked for the Black & White Cookie and tossed his cookies. Bigly sad. She did recover after a day. I went solo into Strasbourg, France, which has bounced like a ping pong ball between Germany and France for centuries. Now there is not even a sign on the bridge when you pass from Germany into France. Strasbourg supplied an excellent parade with weirdly dressed marching bands celebrating the end of winter. Bikers playing drums. Skeletons dancing. Dinosaurs prancing. Ghosts passing out candy to the kinder. It was groovy.
The procedure to go home was finely tuned and heavily Germanic. If you miss a check point, you stay in Europe. Our flight was out of Basel, Switzerland. Luggage had to be in the hallway by 3 a.m. On the van to airport at 4:30 a.m. Flight leaves at 6:30 a.m. It was not a night conducive to unfettered sleeping. However, all is well that ends well. We would go on Viking again.