Details

Tuesday, 16 August 2022
Written by Cynthia Ross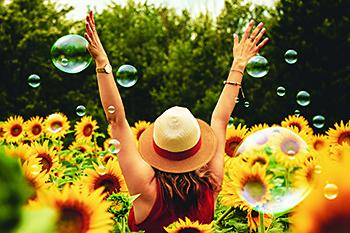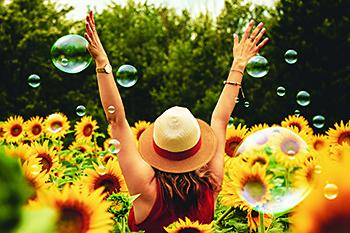 Fitness is not always about what we eat, maintaining a healthy lifestyle or how much we exercise. It is also about things that we love that bring joy. Happiness is a large contributor to our health and leads to many positive behaviors.
Many things in life make us happy. I particularly like sunflowers; their large heads follow the sun from sunrise to sunset. They derived their name from the Greek word Helianthus, Heli means son and Anthus means flower. Some Ancient cultures were known to worship them. There is a mythical story about the Sunflower and a couple called Clytie and Apollo. Apollo did not love Clytie, but she became a sunflower to offer hope, happiness and renewal, and she followed the sun each day spreading warmth and sunshine.
There are more than 70 varieties of sunflowers and an annual plant that comes in a wide variety of sizes and colors. They are native to North America and one of the easiest plants to grow. The rarest sunflower for North and South Carolina is a perennial wildflower. Its common name is Schweitz's sunflower, one of the rarest species of sunflowers in the U.S.
The tallest sunflower was grown in Germany and reached over thirty-one feet. Sunflowers rotate during the day to pivot their faces towards the sun and can rotate as much as 180 degrees. Once the flower reaches maturity the flower faces east to gather the warmth of the morning sun providing a source for pollinating bees.
Sunflowers have been used for aesthetic, medicinal and aesthetic purposes through the centuries. They are a popular choice for weddings and floral decorations and have been used in many ways. The Cherokee Nation used the leaves to treat kidney problems and the Dakota for pulmonary and chest pains. The oils from the seeds were used as an oil to paint the body. They were used for dermatology, appetite stimulants, sand painting ceremonies and used as suave. They have a rich history as a food plan and are still eaten raw, cooked, ground, dried and used as oil.
Purple and black dywes were extracted by soaking them in water to make color for baskets and body paint. They were worn in the hair for ceremonies and carved wooden discs have been found in prehistoric sites in Arizona. It has been found that they have been used for fuel, food for poultry and livestock. The Chinese have used fibers in the manufacturing of fabrics.
The consumption of sunflower seeds has been linked to lower rates of cholesterol, high blood pressure and cardiovascular disease. They are the source of vitamins that help to support your immune system and are high in zinc, selenium and boost your energy.
Sunflowers for arrangements are an excellent choice adding a bold and rich color to a striking presence. Proper care can keep your arrangements lasting longer. Hydration is an important step in maintaining the life of your sunflowers. Water is essential in the first step of cutting for immersion and cutting the stems again to have continued water flow to the heads for extended shelf life. Using a preservative can also help with maintaining freshness. Sunflowers cut from the garden should be picked a few hours after dawn for hydration. Sunflowers picked during mid-day may result in the flowers drooping. Place in containers where the heads can be supported and remove all the leaves below the surface to prevent bacteria from growing. Pair your flowers with greenery and flowers with a variety of shapes or a simple cluster.
Live, love life and sunflowers.