Details

Tuesday, 22 December 2020
Written by Bill Bowman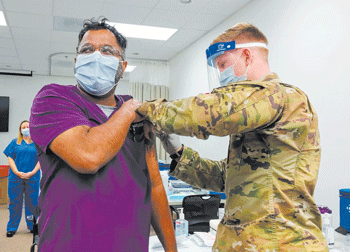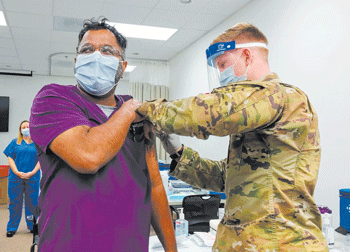 Well, it's a medical miracle, and I couldn't think of a grander Christmas gift to all Americans. Regardless of your political affiliation or sentiments, President Trump and his administration made good on the promise to produce a COVID-19 vaccine in less than a year. Operation Warp Speed made good on that promise when the first shipments of over 2 million doses of Pfizer vaccine were produced and shipped in only nine months. An impressive feat considering the normal R&D development process usually takes 5 to 8 years. Millions of doses of the Moderna vaccine are expected to be shipped soon.
Without incident, thousands of front-line medical workers have already received the first of two vaccinations needed to fend off this deadly disease. The second vaccination will follow in about two weeks.
The vaccine arrived in Fayetteville the morning of Dec. 15 to Cape Fear Valley Medical Center and to Womack Army Medical Center on Fort Bragg. Both hospitals began vaccinating front line health care workers at 1 p.m.
As of this writing, it is predicted that over 20 million vaccinations will be administered across the country by the end of January. This is excellent news and a feat that could only have been accomplished in America. This is a proud moment for our nation and should be celebrated. Not politicized.
There is more good news on the horizon. The CDC announced last week that approval was given for an over-the-counter COVID-19 screening test that will allow individuals to check for the disease by evaluating their symptoms. The results are ready in 20 minutes. The cost? $30.
Getting vaccinated is only one stage in getting this epidemic under control. We still need to use common sense: wash our hands, practice social distancing, etc.
More importantly, we need to make sure we keep our attitudes right by maintaining a positive outlook and focusing on the well-being of our mental health. After all, this is the holiday season, and emotions will be running high mixed with a little anxiety from being separated from friends and family. Usually, this is a joyful time when family and friends get together to celebrate the birth of Christ, congregate to eat, drink and be merry while sharing family traditions. Perhaps, not so much this year as everyone becomes COVID cautious and rightfully so. Almost everyone I come in contact with has either had COVID, know someone with COVID, or know someone who has passed away from the disease. Social responsibility here takes on a whole new meaning. In other words, when it comes to protecting your friends and family from the spread of the COVID-19 disease, consideration of those around you should be your first and foremost consideration.
We care about our readers and the businesses and organizations in our community. Yes, this is a crazy time, and 2020 will be a year for the record books. However, we will get through this. The development of America's new COVID-19 vaccine has again proven the truth in the adage by philosopher Friedrich Nietzsche: "That which does not kill us makes us stronger." I believe this, and so should you. Thank you for reading Up & Coming Weekly.
Pictured above: Spc. Adam G. Millett, a combat medic assigned to the 82nd Airborne Division, administers the first COVID-19 vaccine on Fort Bragg to Womack Army Medical Center emergency room nurse Roni Paul on Dec. 15. (Photo by Sgt. 1st Class Mary Katzenberger, 18th Airborne Corps)